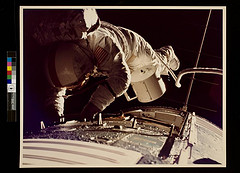 by
George Eastman House
Film-maker Sriram Raghavan has managed to earn a cult following through his two remarkable Bollywood suspense thrillers EK HASINA THI (2004) and JOHNNY GADDAAR (2007).
Early Life
As a kid, Sriram used to beg, borrow and steal to watch movies, particularly of film-makers like Manmohan Desai, Nasir Hussain, Vijay Anand and Alfred Hitchcock, and munched on a lot of James Headly Chase novels along; his popcorn. Suspense thriller was his genre and to-be-forte.
Sriram, a Tamilian originally from Pune, finished college and came to Mumbai to pursue a career in journalism. He got a job in Stardust magazine, but he wasn't good at it. So he decided to join the Film and Television Institute of India, Pune for a course in direction.
Later, he made a 45-minute gripping documentary, 'Raman Raghav', on the most infamous Indian serial killer, Raman Raghav. It starred noted stage-film actor Raghuvir Yadav in the lead.
Sriram happened to meet director Ram Gopal Varma after the release of SATYA (1998). Varma asked him to write something and show him. Sriram carried the VHS of 'Raman Raghav' and showed him. Varma loved Sriram's documentary and soon decided to offer him a script.
Ram Gopal Varma showed the script of Ek Hasina Thi by Pooja Ladha Surti to Sriram. The script had a woman as the protagonist which Sriram found very exciting. And, hence agreed to direct it.
Career
Sriram debuted with EK HASINA THI in the year 2004. Starring Saif Ali Khan and Urmila Matondkar in the lead, the film was a dark-yet-not-grim psychological thriller, which was co-written by Sriram and produced by Ram Gopal Varma.
Ek Hasina Thi stunned the audiences with its amazing storyline and brilliant direction. Urmila's performance earned her a Filmfare nomination for the Best Actress. The film received rave reviews from critics and has become a cult film among thriller lovers.
His next directorial was JOHNNY GADDAAR (2007). It's story revolved around a gang of five men, the eldest (Dharmendra) over 60, the youngest (Neil Nitin Mukesh, his debut) in his twenties, who faced the bright prospect of making a fortune through what seemed to be a simple exchange of contraband for money on a train. However, this caper goes wrong badly. What follows is a ruthless search for the traitor amongst them. The film, upon release, underperformed at the ticket window, but it was one of the most positively reviewed films of the year. It was applauded for its soundtrack, camerawork and editing. The film gained immense following for its 60s-70s style thriller-film noir. With this film, Sriram Raghavan had become amongst the most reputed film-makers to work with.
Upcoming Films
Sriram would be coming up with yet another suspense thriller, AGENT VINOD, with Saif Ali Khan and Kareena Kapoor in the lead. Produced by Saif's Illuminati Films, the film is a story about a spy. Currently being shot in Morocco, it is expected to release in May, 2011.
Personal Life
Sriram's brother Sridhar Raghavan is a writer in Bollywood who has written dialogues-screenplay-story for films such as KHAKEE (2004) and BLUFFMASTER (2005).
Getting this is up to you. I'm not going to tell you exactly because it's not 100% legal.
Video Rating: 4 / 5
Question by : How did the film maker make the movie King Kong incredibly real especially in the end?
Hi pp,
Perhaps you have watched or seen King Kong 2005 which is largely admired as a movie wonder. I wonder how could the film maker make it as unbelievably real as nature in the end of it when the gorilla was doing the riot and stampede in the city, particularly many buildings and vehicles were unmistakably seen being destroyed. By what techniques did the film maker use to do that?
Best answer:
Answer by Wingman
They used CGI (computer generated imagery) like
they did in Avatar
What do you think? Answer below!
[wpramazon asin="1441183671″]
Interview With The Eyeborg He records everything he sees. He has a camera fitted inside his prosthetic eye. He is the Eyeborg. Where else to find Diagonal View… FOLLOW us on Twitter: ow.ly or LIKE us on Facebook: ow.ly Strange talents, shocking stories, dangerous stunts…see it all here @ www.youtube.com
More Film Maker Articles