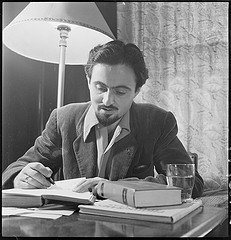 by
State Library of New South Wales collection
Article by Johnson
Pre Production:
Celtx : Celtx is one of the extra ordinary screenwriting/script writing software that is available on the net which is just equal to all the commercial software's like Final Draft, Movie Magic, Movie Outline etc., all the software's mentioned above will cost you at least 10000 bucks in Indian currency. Whereas Celtx is just available for free. To know more about this software just visit my last previous post Free Script Writing Software For Download.
Script Buddy : Script Buddy is a online script writing software that is available for free. The only thing you have to do is just create a account and login,start writing your script. That's it..you can start formatting your script in minutes.
Screenwriting Pro : This is also one of the online software that is available for free to try for 30 days. You have to create an account, login to your account and simply start format your screenplay. That's it. But after completion of 30 days you have to renew with an small amount of 4-5 dollars i guess. So, if you are prepared to spend some money this is a very useful tool for formatting a script.
Storyboarding Pro : This is a very useful tool for story boarding. You can download the software and its completely free, and you can get all the needed tutorials in the site itself. This is particularly designed for school students and film makers for the purpose of storyboarding. You can upload the scanned copies of images or drawings of your shots and you can view them as story. You can upload images. This is a very useful tool for independent film makers.
Production
Blender : Are you an animator or graphic designer..? then this tool is meant for you..a fantastic tool for designing graphics and animations of high quality. This is completely free no need to pay a single penny from your pocket. Just download the software and start creating your animations. I have seen a animation film completely done with the help of blender, and the outcome is just awesome.
Movie Planner : This is a very useful tool which can make your film making much easier. Film making usually will have lots of work to do before and after production. To make it easy and make your work into small useful pieces this tool will be very helpful. Just download and install it. I personally didn't use the software. So, i can't tell you how good it is. But this program is absolutely free.
Post Production:
Audacity : Friends, this is just a fantastic sound editing tool which can be downloaded for free. I am using this very tool since so many years. This is a open source software and time to time you can get updated versions of this tool since so many volunteers will be working for the betterment of the program. You can get lots of tutorials on topics like how to use this program etc., a must post production tool to have as a film maker.
Virtual Dub : This is a video editing program that is available for free. This won't ask for large disk space and easy to handle. Program size will be around 14mb or so approximately. This is also a open source software and lots of versions will be available, so download the version which suits your needs.
Jahshaka : Have you ever seen graphics in films like Spiderman, Harry Potter..? this program does the Fx, CG work that is all needed for your film. This a fantastic program to have without any burden on your wallet. A must have tool for every film maker. Can work on al types of operating systems, you can edit, add Cg and Fx, image processing and lots more with the help of this program. Just download and install it on your machine.
Wax : This is also a free tool that is available for free download. This is also a video editing program that is very useful for small graphics etc., small, easy to use and lots of tutorials available for this very program. If you like to have a dump in addition to all the video editing tools mentioned above just go for it.
Cine Pain : This is also a video editing, graphics and fx program available for free. This is a open source software. Helps in removing dirt, Cg graphics and helps in framing models and textures. this very program is used in lots of Hollywood films.
I will list out few more open source programs that are available for film makers. If you are aware of some more feel free to mention in comments.
It's goverments one year anniversary and Shekhar has special guest to join the celebration. The first guest on the show the show is the film maker Basu Chatterjee who talks about his handkerchief obsession, his set of actors that he worked with and his TV series Rajni. The second guest on the show is the actress Ritu Shivpuri who talks about her heritage and about her wish to become a producer. What interesting conversations will he have with these two? Movers and Shakers is a late night talk show that was hosted by popular comedy actor Shekhar Suman on Sony Entertainment Television. The show comprised of an opening monologue followed by comedy routines interviews and performances. Close to 500 celebrities were interviewed by Shekhar Suman on the show. Launched in 1997 the show was a huge hit and it catapulted Shekhar Suman to stardom making him one of India's most popular TV Actors.
Video Rating: 0 / 5
Question by : Is it possible to be in the military and also be a film maker?
My two passions are film making and being in the marines. I want to start taking classes for both but i don't know if i can be in the marines and still be a film maker. Please help,thanks.
Best answer:
Answer by VampireDog
not much of a chance. when the Marines want films make they can have their choice of professional film makers with established reputations.
I suppose you could pursue film making and be in the Marine Corp reserve. Maybe you could check that out with a recruiter.
Give your answer to this question below!
[wpramazon asin="0415688221″]
For more Stories, Food News, and Cooking Fresh videos, visit: cookingupastory.com Part 1 A conversation with filmmaker Curt Ellis about his new documentary "King Corn", the film that may open eyes across America. Surprisingly, corn is present in some form or another, in almost everything on the American plate. And, none more so, than through the food ingredient "high fructose corn syrup" (HFCS). Is it a good idea to have "HFCS" present in so many of our foods without prior public debate, or adequate science to measure its impact on the long-term health of adults, and especially our children? Should our standard meals be unnaturally skewed toward a corn based diet, in the first place? This interview, along with video clips from the documentary, may not provide the answers here, but it's a good beginning for further thought and reflection. What do you think?
Video Rating: 4 / 5
More Film Maker Articles