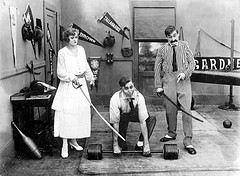 by
State Library and Archives of Florida
Film festival directors create fair and balanced programs for their festivals. Notwithstanding the quality of the films, a festival with all Black films is not necessarily that interesting as a mainstream festival, but opens up the doorway of opportunity for niche market festivals. As a filmmaker, when I set out to identify the top 10 festivals for Black Filmmakers, I was unable to locate any source identifying that list. Through my own experiences living and working in Los Angeles in the Entertainment industry for over 12 years, I was able to create my own list of the top 10 film festivals for Black Filmmakers. Unable to narrow the list down to 10 of equal or greatest importance, my list actually has 12 festivals on it.
1. American Black Film Festival
Originally dubbed the Acapulco Film Festival, the American Black Film Festival found its way to Los Angeles by way of Miami. Produced by Film Life, Inc., who also produces the Black Movie Awards, the American Black Film Festival is the most sleek Black Film Festival, replete with star studded Black films made independently from the studio system.
abff.com/festival
2. Pan African Film & Arts Festival, Los Angeles
With an attendance of over 200,000 people for the film and arts festival, PAFF is the largest and one of the most prestigious Black film festivals worldwide. Each year PAFF screens over 150 films from the U.S., Africa, the Caribbean, South America, the South Pacific, Europe and Canada.
paff.org
3. Hollywood Black Film Festival
Run concurrently with the Infotainment Conference, the Hollywood Black Festival is a formidable stop for Black Filmmakers, whereas many agents, distributors and sales agents, specifically looking for Black content, attend it.
hbff.org
4. Urbanworld Film Festival
Once home to its own distribution outlet, the Urbanworld Film Festival still is a choice of studios and independents to debut feature films, network and discover emerging talent.
urbanworld.com
5. San Diego Black Film Festival
Formerly known as the Noir Film Festival, the San Diego Black Film Festival has grown into a classy event where filmmakers can be treated with class and respect.
sandiegoblackfilmfestival.com
6. Black International Cinema, Berlin
In existence for over 20 years and produced by the Fountainhead Tanz Theatre in Berlin, the Black International Cinema Film Festival offers Black Filmmakers at -large the opportunity to screen in Europe and build a bridge for distribution in the Pan-African marketplace.
black-international-cinema.com
7. Pan African Film Festival, Cannes
Although not hosted by the French government like Festival de Cannes, the Cannes Pan African Film Festival offers Black Filmmakers the Cannes moniker as well as the opportunity to share their work with the European marketplace and make inroads for European distribution.
festivaldufilmpanafricain.org
8. Urban Film Series
The Urban Film Series is not actually a film festival, but rather a film screening and discussion series. Set in the nations capital, the organization and publicity engine for the Urban Film Series is stellar and will garner your film media attention throughout the nation's capitol. In addition, the Urban Film Series also host film screenings and discussions in other major markets for the Black community.
urbanfilmseries.com
9. New York African Diaspora Film Festival
The ADFF screens films from the African Diaspora from all around the world. Like screening in Hollywood, screening in New York is never a bad idea. The New York media serves as a surrogate for the nation's media outlet and the ADFF is successful in getting its films respectable media coverage.
nyadff.org
10. Roxbury Film Festival
One of the largest festivals of its kind in the New England area, the Roxbury Film Festival has been a consistent staple in providing filmmakers of color an opportunity to screen their work and allow their voices to be heard.
roxburyfilmfestival.com
11. San Francisco Black Film Festival
SFBFF has become a driving force integrating the work of independent Black filmmakers into the mainstream. Several films, which had their premiere at SFBFF, have secured distribution.
sfbff.org
12. BFM International Film Festival
BFM International Film Festival, sponsored by Black Filmmaker Magazine, is the premiere Black world and urban cinema festival in the United Kingdom. In addition to its premiere event in London, BFM also hosts several mini-festivals throughout the UK.
bfmmedia.com

When you think of Black Directors, who comes to mind…Tyler Perry, Spike Lee? In the small community of "black filmmakers", it's easy to go unnoticed in the vastly caucasian world of Hollywood. So it's important that as African American's we celebrate our own success and history by informing everyone about our creative past. Sidney Portier, Robert Townsend, Keenan Ivory Wayans, and Mario Van Peebles were all honored at the African American Museum for their contributions in telling our stories within Hollywood. Footage and Words by: Mike Melendy www.blacktreemedia.com
Video Rating: 5 / 5
Question by Terence C: Can a black man make it in the film industry?
I am a second year film student. I work hard everyday. I am currently writing a feature length screenplay that I hope to get optioned. (or even looked at by an agent or producer.) I just want to know can a black man enter and become sucessful in film. I see that there isnt that many screenwriters or filmmakers in film that are black. It seems that for every 20 white filmmakers there is 1 black filmmakers. Give honest answers!
Best answer:
Answer by [[tedium]]
are you serious? maybe this would've been an issue in the 40's and 50's, but you're seriously asking this question in this day and age?
….yes, a black man can make it in the film industry. jeez…
Add your own answer in the comments!
Alpha Phi Alpha, Nu Sigma Chapter Stanford University stepping at the 1992 Black Filmmakers Hall of Fame Show. Taped in Oakland, CA.
Video Rating: 5 / 5