Let's face it, we are in a recession that probably won't be over for another two years. We have to find ways to get music from our favorite bands without stealing it. Although, some labels will probably be pissed at me for making this list because some of the ways could be considered "stealing" in their eyes. Again, we're in a freakin' recession!
Here are 8 Ways to Buy Cheap Music (or get it for FREE):
1. Download MP3's instead of buying CDs. Most online retailers sell music for less if you just buy the download and not the actual CD. After all, the labels aren't paying for the manufacturing and shipping of the actual music in this way. It's only fair that you get the discount.
Amazon's MP3 Page has daily, weekly and monthly specials with full albums going for $ 5 (including new releases). This is a must site for checking daily deals.
Shop at the iTunes Music Store. This is a no-brainer but make sure you check out the front page to see what deals are going on. Also, don't forget to make the home page genre-specific to the music you like. It will help you find deals of bands you actually like.
2. Use Ebates.com. Chances are that you're already buying music off Amazon and iTunes. With Ebates, you get money back for going through their site to buy from Amazon, iTunes or any other online retailer. Not only would you get that new release off of Amazon for $ 5, you will get cash back for going through Ebates. It's FREE to register too! (I got a $ 36 check from Ebates last week for my purchases.)
3. Go to the library – What? Are you serious? Damn straight I am. You can go to your local library, get a free library card and checkout up to 10 CDs a day (at least here in Phoenix). Whatever you allegedly do with those CDs (burn them) is not my business. New releases come out every week. I have personally checked out CDs from A Day To Remember, All Time Low, Norma Jean, Tori Amos, Smashing Pumpkins, Jimmy Eat World, The Format and countless others. Yes, your local library does have "cool" music too.
4. Buy from independent record stores then sell them back. This is my favorite. Not only can you get lower priced new CDs (usually used CD stores carry new releases for less than other stores) at your local indie record store (find one near you here) but you can sell them right back to them when you're done with them. And if you're smart, you'll opt for the store credit instead of taking cash because you'll get a lot more back. The biggest store in the Phoenix, Tucson and Las Vegas areas are the Zia Records stores (pictured above).
You can also buy really cheap used CDs from Goodwill or Salvation Army stores. Yes, you can find brand new CDs for.50 cents to $ 2. Oftentimes, you can sell them to your local indie store for more than you paid for them (did I say that?).
5. Use eBay.com Most CDs that weren't released during the current year can be bought for $ 3.01. Why $ 3.01? Most eBay sellers charge $ 3 to ship CDs (don't buy from anyone that charges more) and you can win the auction for under.99 cents most of the time or even a penny. DO NOT BID ON THE ITEM YOURSELF. Use a sniper program called Gixen.com. It's 100% free to use and it will place your bid on any item within seconds of the closing time. This keeps you and others from outbidding each other and paying more than you should. I've won soooo many auctions with this program and I walked away with the CD for under.25 cents. Yes, you might lose sometimes but who cares. That same CD is somewhere else on eBay for you to bid on.
Another great benefit of eBay is that people sell their iTunes, Amazon, Best Buy and Target gift cards. You can bid on those gift cards for a lot less than face value and save a lot of money on buying music. Again, I would use Gixen.com.
You can also search Craigslist.com for people trying to sell their gift cards for cash. I've seen some on there as well.
6. Buy music at the band's concert. This is probably the most beneficial to all parties. You can buy a cheaper priced CD, help the band, help the label and do it all legally. Everyone wins! Hell, if you play your cards right, you can flirt your way to a free CD.
7. Start your own music blog. That's right. Start a legitimate music blog and email labels to get on their press list. Before you know it, you'll have a desk overflowing with free CDs and other materials from labels. The record label will do their research to see if you have a legit site but you actually don't have to have many visitors. I've seen sites with less than 200 visitors a month get promo CDs. Why? The labels don't really pay for all those free promo CDs – the bands do. It's a part of most band's contracts (even if they don't know it).
But one thing I DO NOT suggest you do is sell those promo CDs online or to independent record stores. Even though it is legal to do so, you will burn bridges and it won't look good. Keep your promo CDs for yourself and never sell them anywhere. Also, some of those promo CDs are watermarked which means that CD can be traced back to you! If it gets all over the internet because you loaned it out or sold it, you're in trouble with the law.
8. Buy CDs directly off the band's website. This is another way to benefit everyone involved and buy lower priced CDs. The only thing you have to worry about is shipping so buy the MP3 download off the band's website.
There you have it. I've used all the methods above and continue to. Enjoy!
Directed by Peter Greenaway. Music by Michael Nyman andHenry Purcell. www.imdb.com en.wikipedia.org Cast: Anthony Higgins … Mr. Neville Janet Suzman… Mrs. Herbert Anne-Louise Lambert… Mrs. Talmann Hugh Fraser… Mr. Talmann Neil Cunningham… Mr. Noyes Dave Hill… Mr. Herbert David Gant… Mr. Seymour David Meyer… The Poulencs Tony Meyer… The Poulencs Nicolas Amer… Mr. Parkes Suzan Crowley… Mrs. Pierpont Lynda La Plante… Mrs. Clement (as Lynda Marchal) Michael Feast… The Statue Alastair Cummings… Philip Steve Ubels… Mr. Van Hoyten Ben Kirby … Augustus Sylvia Rotter… Governess Kate Doherty… Servant David Joss Buckley… Mr. Porringer (as Joss Buckley) Michael Carter… Mr. Clarke (as Mike Carter) Vivienne Chandler… Laundress Geoffrey Larder… Mr. Hammond Harry Van Engel… Servant George Miller… Servant
Question by ZMAN: free music downloads with no contracts or such sort?
Best answer:
Answer by MR P
I recommend:
http://freerapidsharedownload.blogspot.com/
(lots of up to date chart albums & singles)
Give your answer to this question below!
SPCO, Minnesota Orchestra in tough contract talks
7, with a concert at the Ordway Center for the Performing Arts. But the musicians of both the SPCO and the Minnesota Orchestra in Minneapolis are currently working under contracts that expire Sept. 30. Negotiations between musicians and management will …
Read more on Pioneer Press
Basic Training For Beginners
Basic Is A Comprehensive Exercise Program For Beginners. It Addresses The Problems That Millions Of People Have With Other Fitness Programs That Are Too Difficult For The Average Person To Complete.
Basic Training For Beginners
TheTalentShow.com http twitter.com Episode Two: My Mansion is Your Mansion After less than a week in LA, Danielle gets Harper what most pushy music managers chase for years: a record deal. But her work isn't done until Victous Records delivers a producer for Harper's album. While Danielle focuses on Victous, Harper conquers VIP parties, hot actors, and apartment hunting. The results are enviable. Watch what happens on Episode Two of Talent. MUSIC "It's Me" Performed by Helen Austin Courtesy of Pig Factory USA www.helenaustin.com
Video Rating: 4 / 5
A few free music contracts products I can recommend:
Learn To Market Your Business Online
Give Me Just 30 Days And I Will Show You How Any Online Entrepreneur Can Transform Their Stale (or New) Venture Into A Steadily-growing, Profit-producing Business Using My Step-by-step Online Marketing System!
Learn To Market Your Business Online
Justin Bieber gets totally legit contract offer from ECHL's Bakersfield Condors
After all, this is the same organization that gave us Charlie Sheen night, where admission was free with a clean drug test, "Tiger Blood" slushees were two for one, and if anybody had Sheen's "Two and a Half Men" episode salary of $ 2 million lying …
Read more on Yahoo! Sports (blog)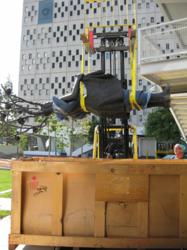 Los Angeles, CA (PRWEB) August 22, 2012
The Ben Maltz Gallery continues to present and document new work by artists in Southern California with the solo exhibition STILL . . . by Otis alumna Alison Saar (MFA 81).
Informed by artistic traditions from the Americas to Africa and beyond, and by her mixed racial upbringing, Alison Saars work is infused with a powerful visual and kinesthetic tension. She creates paradoxical responses to the black-and-white delineations of political and social forces. Using the history and associations of her materials, everyday experience, African art and ritual, Greek mythology, and the stark sculptural tradition of German Expressionism, she develops a primal intensity that challenges cultural and historic references and stereotypes.
Four stylized glass stills express the personal and political challenges of being an artist, woman, and mother in the twenty-first century. These works distill the vile essence of bigotry, and transform it into consciousness. Only through awareness and informed mindfulness can negative representations be dispelled and converted into positive reflections.
A mature and significant artist, Saar is a sculptor who has achieved broad recognition for her studio and public art throughout the country. Her work is held in many collections including the Museum of Modern Art, Hirshhorn Museum and Sculpture Garden, and Metropolitan Museum of Art; and she has major public art works in Los Angeles, New York, and Chicago. She has received numerous prestigious awards including a Guggenheim Fellowship, Anonymous Was a Woman, and National Endowment for the Arts.
The forthcoming catalog, Alison Saar: STILL . . . (October, 2012), features an introduction by Meg Linton, Curator of the Exhibition and Otis Director of Galleries and Exhibitions; an essay by Dr. Barbara Thompson and Phyllis Wattis, Curator of the Arts of Africa and the Americas at the Cantor Art Center, Stanford University, and full-color reproductions of the work and installation.
This exhibition is funded in part by Contemporary Collectors, Orange County. Special thanks go to Decker Studios, L.A. Louver, John David OBrien, and Otis Continuing Education, and Otis Alumni Relations.
EVENTS IN CONJUNCTION WITH THE EXHIBITION:
PUBLIC RECEPTION

Saturday, September 15, 4 a.m. – 6 p.m., Admission Free

Meet Alison Saar and enjoy live music
OTIS ALUMNI GALLERY & STUSIO TOUR

Saturday, September 15, 10 a.m. – 4 p.m., $ 25

Otis Alumna Alison Saar tours her exhibition STILL . . . in the Ben Maltz Gallery followed by lunch and a bus tour to local Otis alumni studios and galleries. (Reg # 35449, $ 25 Non-credit)*
CONVERSATION WITH ALISON SAAR AND SARAH LEWIS

Sunday, November 4, 2 p.m., Admission Free

(Reg # 35450, Free non-credit)*
Scholar, writer, and curator