Subsequent to my application for the rectification of GI No. 121 'Tirupathi Laddu', I have written a letter to the GI Registry with the following contents.
"The crux of the matter referenced above lies in the interpretation of Section 11(1) of the Geographical Indications of Goods (Registration & Protection) Act, 1999 as to whether the GI applicant in the instant case represents the interest of the producers and also whether the definition of "producers" includes employees/contract labourers of the organisation.
Since the application for removal of GI tag to Tirupati laddu was moved purely on public interest, I wish to leave it totally to the tribunal's wisdom than prosecuting the case as an isolated one.
It is therefore prayed that this communication be deemed as compliance to Rule 44 of Geographical Indications of Goods (Registration & Protection) Rules, 2002 intimating (in advance) no desire to adduce any evidence in support of rectification plea but intending to rely on the facts stated in the application (GI – 6 A), irrespective of whether what would be the content of counter-statement filed by the GI proprietor under Rule 66.
It is also requested that the Registrar may kindly proceed ex-parte in the matter under Rule 50 of Geographical Indications of Goods (Registration & Protection) Rules, 2002 upon receipt of the necessary documents from the proprietor."
Section 11(1) of Geographical Indication of Goods Act, 1999 says – Any association of persons or producers or any organisation or authority established by or under law for the time being in force representing the interest of the producers of the concerned goods, who are desirous of registering a geographical indication in relation to such goods shall apply in writing to the Registrar in such form and in such manner and accompanied by such fees as may be prescribed for the registration of the geographical indication.
Rule 32(5), Rule 32(6)(a) and Rule 32(6)(f) also mandates disclosure of the particulars of the "producers"
Rule 32(5) of the Geographical Indication of Goods Rules, 2002 says – Every application for the registration of a geographical indication shall be made in the prescribed forms and shall contain a statement containing such particulars of the producers of the concerned goods proposed to be initially registered.
The statement may contain such other particulars of the producers mentioned in Section 11(2)(f) including a collective reference to all the producers of the goods in respect of which the application is made.
Rule 32(6)(a) says – The statement contained in the application shall also include an affidavit as to how the applicant claims to represent the interest of the association of persons or producers or any organisation or authority established by or under any law.
Rule 32(6)(f) says – The statement contained in the application shall also include the full name and address of the association of persons or organisation or authority, representing the interest of the producers of the concerned goods.
The eligibility to apply for GI is being substantiated by the proprietor of Tirupati laddu GI (Tirumala Tirupati Devasthanam – TTD) in the counter affidavit filed before Madras High Court in response to a writ petition challenging the validity of Tirupati laddu GI. The counter affidavit makes an interesting statement that the GI protection obtained is community centric aimed at maintaining the tradition and quality associated with Tirupati Laddu and the betterment of the community involved in the manufacturing and selling of the Tirupati laddu. Can TTD establish the 'interest of producers' by this averment ? Does it mean that the definition of "producers" under section 11(1) includes employees/contract labourers of the organisation ?
This argument looks very trivial or rather funny.
TTD states in their GI application, which was published in the Geographical Indication Journal No 28 from page 38 to page 66, that TTD has the absolute monopoly over the production of 'Tirupathi Laddu'. While the laddus are made by workers of the temple (TTD employees) and hired labour, there is no mention of any other beneficiary in the application except TTD.
Allowing the GI registration of goods produced by private entities would defeat the spirit of GI protection, which is meant for protecting, preserving and promoting collective community rights as opposed to private monopoly rights. It is worth mentioning here that "monopoly" is an alien to "democracy", and hence banned in a democratic republic. However "exclusive rights" for the "products of creative mind" are being allowed as Intellectual Property Rights with reasonable restrictions, only because it is essential for industrial growth. No industrial purpose is served by the grant of "goods" status to a temple offering.
[From "Kovacs Corner" on YouTube.com] – Virtually unknown today, Ole Olsen (the taller gent) and Chic Johnson were stars of vaudeville, Broadway, radio, movies and television from 1914 to their deaths in the early 1960's. Every visual comic living through that era has been influenced by their madcap comedy. The works of Ernie Kovacs, Mel Brooks, Jerry Lewis, Rowan & Martin and countless others were undoubtably inspired by their zany brand of humor. "Crazy House" was O&J's second to last picture for Universal during the screwball comedy period which culminated just after World War II. This period also included, among others, the films of WCFields and the studios mainstay team of Abbott & Costello. We also see a roster of various Universal contract players from that era. The most recognizable faces for today's audience would be Andy Devine (the large gent on the motor scooter), Basil Rathbone (Sherlock Holmes), and Nigel Bruce (Dr. Watson). The fictitious Universal Studios executive (NG Wagstaff) is played by character actor Thomas Gomez, "Mac" is actor Patric Knowles and the stereotypical Mexican is none other than "Pancho" from the "The Cisco Cid", Leo Carrillo. No routine or joke was too old or corny for Ole and Chic and this may have hurt their later foray into early television; in addition they found that the new medium could not effectively showcase their stage and movie antics. Comedy was changing and Olsen & Johnson couldn't make the transition. They played out …
Video Rating: 5 / 5
Max Fleischer's Color Classics DVD Set! ► amzn.to XmasFLIX.com ► Like XmasFLIX! ► http Xmas MP3 ► XmasTRAX.com ► Podcast ► http An animated short produced by Fleischer Studios and released on December 4, 1936. You are viewing actual film in this video, with all it's wonderful imperfections, however, I highly recommend getting the DVD boxed set called "Max Fleischer's Color Classics: Somewhere in Dreamland" ► amzn.to The short begins in an orphanage, where the orphans are all asleep, awaiting Christmas morning. Just then, the puppy from the clock slides down a ramp and licks on one of the orphans. The first orphan shouts, "Merry Christmas, everybody!" And all the orphans jump out of bed and head to the hall, singing the title song. They grab the toys from their stockings, and get ready to play with them. However, they are sad to discover that the toys are completely broken and fall apart when they are played with. The orphans can't help but cry. Meanwhile, Professor Grampy is out riding through the snow in his motor-driven sleigh, singing the title song himself. He hears the orphans crying from inside the orphanage, and he parks the sleigh, runs to the door, peeps through the window, and tries to think of a way to give the orphans a better Christmas. He puts on his thinking cap, and shortly, the lightbulb on the cap blinks. Apparently, he has an idea. He climbs through the window and starts making new toys out of household appliances. Finally, he dresses up as Santa …
Video Rating: 4 / 5
Question by spellboundbeats: What is Typical Music Contract for a Producer (Beat Maker)?
What is considered a typical contract for a Music Producer (Beat Maker) in hip hop and r&b? I know it usually depends on the Producer and artist..however i am curious as to whether or not there is an industry standard. Does the artist pay an upfront fee for the track, then a percentage from units sold?
I've been working with several artist lately and i'm trying to figure out a way to develop some smart reasonable contracts for my clients.
Best answer:
Answer by Ed Atun
The best contracts are a one-paragraph notation of what they have to do and how are both of you going to get paid. The artist pays nothing up front. If you owned a studio, you could charge them for the use and then wish them well. That is not what you are offering. You want a cut of their earnings to compensate you for your efforts and expenses. One of your major expenses will be to "carry" young artists until they get discovered. And that's when you will realize that even the 20 page contracts won't help you when you are dealing with weasels.
Know better? Leave your own answer in the comments!
Lease Options University.
Lease Option And Credit Repair System.
Lease Options University.
[wpramazon asin="3826559525″]
Fatal, sad and happy endings for "Sins" characters. TRIVIA: Joan Collins finished filming of Sins in France at the end of June 1985. She, however, failed to show up on the set of Dynasty in Hollywood on Monday, July 8, 1985, when the soaps 6th season went into production. Collins was said to have been trying to negotiate doubling her 000 per episode salary (according to Adweek – Collins was earning the same amount as Linda Evans, while John Forsythe was pulling in 000 per episode). The actress missed out on the entire season premiere episode and had to be hastily written out of the script (the inept producers simply gave most of her lines to Linda Evans). Producer Aaron Spelling then allegedly ordered Collins to show up for filming of the 2nd episode which began on Wednesday, July 17, 1985 or face getting axed off the show. In interviews Collins insisted she was too tired to return to Dynasty having just completed the production of Sins in Europe and refused to discuss salary negotiations. In recent years, however, Collins admitted to purposely holding out for a bigger salary. Initially, the press reported Spelling won the dispute and would not be giving Collins any raise, but then in November it was reported Collins quietly signed a new 2-year deal giving her an estimated 000 per episode. While promoting Sins Collins said she was enjoying being a producer and might consider leaving Dynasty when her contract expires in 1987. However, after her 2nd mini-series …
Video Rating: 4 / 5
Check out these producer contract products:
Practical Guide To Unique Business Card Avertising
Great Home Business To Sell Unique Business Cards
Practical Guide To Unique Business Card Avertising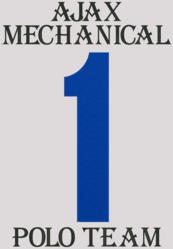 (PRWEB) June 22, 2012
Crooked Brook was contacted by national polo player and tournament organizer by Geneve Kashnig to help design and produce the custom polo jerseys for the AJAX Mechanical Services Polo Team.
In the sport of polo, polo shirts are called polo jerseys. Polo shirts are also called "polos" or tennis shirts and they became so popular on golf courses, people started calling them golf shirts. Although the words "polo shirt" and "golf shirt" are used interchangeably, the term "polo shirt" is more popular.
More casual than button-front shirts and dressier than t-shirts, embroidered polo shirts are part of the uniform for many businesses. Polo shirts embroidered with a company logo given as gifts or giveaways are called promotional polo shirts and are great way to get your name out there business and build brand awareness.
The jerseys are a Hanes, Style 054, 5.5 oz., Men's 50% cotton/50% polyester Jersey Knit Polo in Cardinal with a welt-knit collar and rib knit cuffs, two-button placket with pearlized buttons and double-needle stitching on bottom hem.
The embroidery and tackle twill placement is as follows:
Left chest & right shoulder sleeve, royal, 4″ tackle twill numbers

Across Center Front: AJAX Mechanical (logo)

Across Back:

AJAX (Algerian, Black Chrome)

8″ Navy tackle twill number

Polo Team
About AJAX Mechanical Services
AJAX Mechanical Services is a full service HVAC contactor and serves the New Castle, Colorado area and beyond with heating, cooling, plumbing, refrigeration, and air quality solutions. Ajax services and installs all types and brands of HVAC equipment.
About Geneve Kashnig
Geneve Kashnig is a native Colorado polo player who travels the country playing in and organizing polo tournaments. She has three polo ponies; Sterling, Dakota and Ruckus and a Great Dane named Terra.
About Crooked Brook
Crooked Brook is a unit of the atelier division of an art studio that offers full service apparel design, pattern making, sample making, private-label small lot production and embroidery. Since 1989, theyve built a strong reputation of providing top-notch apparel designs, patterns, fit and production samples for many brand name catalogs and retailers, as well as wardrobe and costumes for movies, television and theater.
All Crooked Brook branded garments and accessories are proudly made to order in the U.S.A.
Because of their unparalleled attention to detail in tailoring, they were awarded a Supima