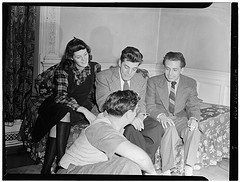 by
The Library of Congress
Texas-born and current Los Angeles resident, Christopher Mallick is the founder and owner of Oxymoron Entertainment, one of the entertainment industry's most innovative and next-generation minded production company's headquartered in Los Angeles.  Leveraging over 30 years of success in various business ventures, the ambitious entrepreneur brings a refreshing approach to the Television and film development process by being able to effectively produce and develop budget conscious projects quickly and efficiently. Recognized as a multifaceted entertainment mogul, Mallick is often quoted in the media and is touted as a game-changer in the film and TV industry by peers.  Mallick is also a committed and noted philanthropist who supports various charitable foundations that support research and treatment for pediatric diseases and adult and youth guidance and mentoring programs.
 As an independent filmmaker, Christopher Mallick made his grand entrance into the film industry with the completion of his first feature film, Middle Men, establishing him as a creative force in the entertainment industry.
Mallick partnered with noted writer/director George Gallo and writer Andy Weiss to create Middle Men, starring Luke Wilson, Giovanni Ribisi, Gabriel Macht, and James Caan.Middle Men premiered at the 2009 Cannes Film Festival, and was selected as the official closing night film of both the Santa Barbara International Film Festival and the Phoenix Film Festival that same year. Mallick and his film have been featured in dozens of International and top-tier entertainment publications including the Los Angeles Times, Rolling Stone, Variety, and The Hollywood Reporter.
 Intrigued by puzzling storylines, Christopher Mallick's most current film is the mystery thriller, Columbus Circle, also starring Giovanni Ribisi, along with Selma Blair, Amy Smart and Jason Lee, will be distributed by Universal Pictures in 2012. Additionally, Mallick produced the documentary, "After Porn Ends" and is developing a number of feature length films and television shows. Some projects include: NINETY, a feature Action/Thriller written by Scott Milam and to be directed by Darren Lynn Bousman; White Boy Rick, a biographical drama based on the true-life events of Rick Wershe Jr.; "Brethren Of The Coast," a TV drama chronicling the events of 17th Century, pirate-populated Port Royal Jamaica; and "Middle Men," an episodic drama/comedy based on the Motion Picture Middle Men; and numerous other projects in development.
Christopher Mallick began his professional career in business when he launched multiple billing companies, including one of the Internet's first third-party billing services. In 2009, Mallick founded StereoD LLC, a 3D conversion company with Giovanni Ribisi and producing partners, William Sherak& Jason Shuman. In 2011, Mallick sold StereoD to Ron Perlman's Deluxe Entertainment.
A movie producer is in charge of the business end of filmmaking, ensuring that paperwork is complete, everyone does their jobs and the movie moves forward as efficiently as possible. Learn how movie producers oversee the writing, shooting, editing and final distribution of a film with information from a filmmaker in this free video on making movies. Expert: Nathan Boehme Contact: www.nathans-reel.com Bio: Nathan Boehme is a writer, director and editor who currently lives and works in Los Angeles, Calif. Filmmaker: Nathan Boehme
Video Rating: 4 / 5
Question by DAVENANN A: film producer?!?!?!?!?!?!?!?
i want to be a film producer when i grow up so i was wondering if there where mini projects i could do this summer since im 13 and i have nothing better to do than sleep. And how i could make an animated series. Also how long does it take for a person to become a producer in college.
Best answer:
Answer by Oli
That's awesome that a young person like you wants to be a producer lol. You could start by just buying a cheap camcorder (Flip video) and just making some short films. Animated series are harder to make so I suggest sticking with short films until you're ready.
Give your answer to this question below!
MGM files to stop production of 'Raging Bull' sequel
Corrects spelling of Scorsese in paragraphs 6, 7 ; addscorrected tag to headline)July 5 (Reuters) – MGM Studios has sued to stop productionof a sequel to the acclaimed film Raging Bull, which won twoAcademy.
Read more on Reuters
[wpramazon asin="0240814630″]
James D. Brubaker is an award winning producer and the President of Physical Production at Universal Studios. In this interview, Jim shares advice for producers from over 30 years of work in the entertainment industry.
Video Rating: 5 / 5
A few film producer products I can recommend:
Movie Producers Could Film In OC With Funding Help
OCEAN CITY – After briefly explaining the details of production and funding issues facing it, Ocean City officials and private investors now must decide whether they want to take the risk of investing money in a movie that hopes to film in Ocean City …
Read more on The Dispatch

New York, New York (PRWEB) July 06, 2012
"Rock music loved me back!" Derek Nicoletto punches and sings in his official music video for "Champion," released today, with couture clothes and jewelry slapping his body while he runs through the night. From spooky fashion to funky and free, Nicoletto also offers fans free "Champion" remixes on Soundcloud.
After his official music video release party at New York's (Le) Poisson Rouge, Out.com editor Alex Panisch wrote, "Derek Nicoletto… Dark and brooding, his energetic yet introspective set took in the crowd… His set had punk rock intensity with glam rock underpinnings…crowd awing, all-in showmanship." True to this description, the video, filmed in the deep woods near Woodstock, New York by Interference Films, mixes glam rock style and soulful grit, true to the sound of the original track from Nicoletto's solo debut album, "Kind Ghosts" (7 Trick Pony/Island Def Jam Dig. Distr). With clothes donated by designer Marcos Campos and jewelry by Michael J. Spirito, the video gives a fashion-in-the-woods feel.
Derek Nicoletto "Champion" official video: http://www.youtube.com/watch?v=CL_U8310pto
"I wrote this song for my ex, who said I loved rock music too much. Well, rock music loved me back," Nicoletto snaps.
Concerned with delivering a multi-faceted experience with every single, Nicoletto had the track remixed by New York producers Mirrortone and offers it free for DJs and fans. The result is a fun, punk-disco radio edit and an extended DJ-friendly version of "Champion," available at http://soundcloud.com/dereknicoletto
Nicoletto has become a well-known voice in the independent music scene and a voting member of the Grammy Awards. With 2011's "Kind Ghosts", Nicoletto began his solo career with an electropop bang. Songs from his album have been placed in over 30 television programs and several mainstream commericals in the last year.
Media contact: Kiyanu Kim, dn(at)7trickpony(dot)com
http://dereknicoletto.com

http://youtube.com/dereknicoletto

http://twitter.com/dereknicoletto

http://facebbook.com/dereknicolettomusic
____