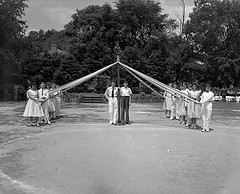 by
The Library of Virginia
If you are someone who wants to become a filmmaker, film school should be a place of joy for you. Because it not only equips you with the basic film making skills, but it also serves to shape your passion. Besides, it gives you the thrust and direction to produce your own film with new and fresh ideas.
There are several well reputed film schools in the country. Well, if California is always going to boast of highest number of film schools, followed closely by New York, you still have lot of other film schools in rest of the country.
Let us first talk about the most sought after "Top of the Pie" film schools which are dream of every aspiring filmmaker. The foremost would be the AFI. It was established in 1967 and is known for specialty in traditional narrative films. It offers six areas of study to the students — Screenwriting, Directing, Production Design, Production and Editing.
Next in line is the California Institute for the Arts which was established in 1961 by Walt Disney for focus on animations. Then there is the San Francisco State University, also set up in the sixty's. The then prevalent political landscape has greatly influenced its course content. Now move on to UCLA and USC. Enter New York and you find Columbia University School of Arts and the New York University. Both schools have long list of film writers and directors who owe their training to them. For instance, Spike Lee reminds me of New York University.
It appears that if you wish an entry into the "golden gates" of any of these symbols of academic fame, you are going to need the of grace of God and his miracle making powers! So, better start praying right from now. And if despite your best efforts (and prayers!) you fail to make your proud entry inside any of the heavenly gates, no need to despair. Rather than staring at the blissful faces in there, turn around and you will find a lot of other film schools across the country with good programs.
There are several film schools in the Pacific Northwest. There is a very good film school in the University of Washington. Another interesting option is the Evergreen State University. It is famous (or infamous!) for its kind of liberal style of education. In place of grades, they have a system where both students and teachers evaluate every thing — themselves as we as the program. They are known as Greeners and they take pride in their critical thinking. Their program, known as MediaWorks, has produced several radical and cutting edge filmmakers.
You will have to consider a few things before you pick a film school. The first thing is the cost of education. This is the ground reality, because if you are going to take loan for your education, you must consider how soon you will be able to repay it after finishing school. To answer this question, consider the kind of internships they offer. You can learn about it from past students who recently graduated from the schools you are considering.
Film school is the comfortable launching pad for your rocket of burning aspirations. It provides you the opportunity to put your hands on all types of equipments and facilities required for film making. For instance, you will learn how use a camera, recording devices, editing equipments, sound studios and edit bays. Another unique aspect of film school is the pool of talent — other students. Students crew for each other. You have all this while you are at school. Once you are out, you can only envy what you had at the school.
So, whichever film school you choose to attend, try to enjoy it fully. It is a place where you have freedom to experiment and facilities to work out your projects. Rather than thinking of sleep at night, plan on falling in love with pizza and Top Ramen.
This is a break down of the most basic lighting for bricks. 3-point lighting. Perhaps later I will do another, more advanced lighting setup.
Video Rating: 4 / 5
Brett Explores the ridiculous trends of shopping Haul videos on Youtube. Watch infoMania Thursdays at 11/10c on Current TV current.com VIEW more Viral Video Film School & SUBSCRIBE to the YouTube Channel here… www.youtube.com
Video Rating: 4 / 5
Question by walz: What university film school offers the best experience?
Ok so this is the thing.
I'm pretty sure that the best way to find a job after film school is to have contacts right?
What university film programme allows you to get those contacts? (in the USA and the UK).
For example, I know that the london film and television school has contacts with the BBC so it's really benefical.
I also know that summer internships during your studies gets you contacts.
Thanks in advance!
Best answer:
Answer by mezzaluna7464
In the US, I would say USC has a great network! It's near Hollywood, alumni is strong, their school of film/stg stg is fabulous!
Add your own answer in the comments!
The Case For a Lebron James-Starring 'Space Jam 2'
By now, you probably already know that Lebron James loves Space Jam so much that he wishes he could star in Space Jam 2. No big surprise there. Space Jam is awesome, and the concept of a sequel is absolutely terrific. Just think about the way you …
Read more on Film School Rejects
[wpramazon asin="630326185X"]
Created by Vancouver Film School student Michael Lewicki through the VFS Digital Character Animation program.
Video Rating: 4 / 5
A few film school products I can recommend:
3-time Oscar-winner Thelma Schoonmaker wins 2nd Gucci award for women in …
Gucci will make a grant of $ 25,000 in Schoonmaker's name to New York University's film and television school — where Schoonmaker and Scorsese met. The award is meant to highlight women's contributions to film in a wide range of capacities.
Read more on Washington Post
New York, NY (PRWEB) August 31, 2012
Sinai Live Book is offering a free video e-book in time for the High Holidays. "Connecting Moments: Elevate your High Holiday Experience" is a collaboration with some of the worlds top Rabbis and teachers, who, in text and on film, share the secrets to transforming the religious, family and community experience of the Days of Awe.
Connecting Moments book is the seventh title from Sinai Live Books (http://www.sinailive.com), an imprint that offers concentrated, transformative Jewish wisdom in a variety of formats, including print books and video e-books.
Sometimes the right words at the right time can unlock the deepest insights. Sinai Live is about guiding you to these Aha! Moments moments of clarity that stay with you forever, says Mark Pearlman, founder of Sinai Live Books. Through concise and thoughtful bookslike Connecting Moments we hope to make Jewish wisdom relevant to our daily lives, ultimately guiding us to be better people and have better relationships with those around us and with God.
The goal of Sinai Live is to make relevant and authentic teaching as accessible and affordable as possible. To achieve this, Sinai Live is offering the e-book version of Connecting Moments for free for the High Holiday season and actively working with collaborating organizations to distribute the book. Visit http://www.sinailive.com for more information.
About the Contributing Authors
Rabbi Roly Matalon

Rabbi J. Rolando Matalon came to Bnai Jeshurun in 1986 to share the pulpit with his mentor and friend Rabbi Marshall T. Meyer. Together they transformed this small, declining synagogue into a revitalized congregation (that today has a membership of more than 1,800 households) committed to an inclusive approach to liturgy and community and dedicated to the work of education, social justice, and interfaith cooperation
Rabbi Joseph Telushkin

Joseph Telushkin, named by Talk Magazine as one of the 50 best speakers in the United States, is the author of Jewish Literacy: The Most Important Things to Know About the Jewish Religion, Its People and Its History. The most widely selling book on Judaism of the past two decades, Jewish Literacy hasbeen hailed by leading figures in all the major movements of Judaism, and has been published in a third edition (June, 2008)
Rabbi DovBer Pinson

Rav DovBer Pinson is a world-renowned rabbi, prolific author, and kabbalists, recognized as one of the worlds foremost authorities on authentic Kabbalah and Judaic philosophy. He is a beloved spiritual teacher and a mentor to many. Through his books, lectures, seminars and consul he has touched and inspired the lives of tens of thousands the world over.
David Solomon

David Solomon is an internationally recognized scholar, translator, teacher and writer across a range of disciplines. David has taught extensively at all levels of education, from primary school to adult education in a range of subjects, and is regarded by many as one of the most gifted and inspiring teachers they have encountered. He is perhaps best known throughout much of the Jewish world today for his dynamic In One Hour overview talks and for his in-depth lectures on Jewish History, Tanach, Jewish Philosophy, Hebrew and Kabbalah
About Sinai Live

Sinai Live books are designed to offer readers an affordable and accessible experience while encouraging further exploration. In addition to making these books available through traditional retail channels such as Amazon, iTunes and Barnes & Noble, Sinai Live is also working with community organizations to distribute these books as widely and effectively as possible.
Sinai Live is committed to assisting high-quality teachers share their wisdom. Our goal is to offer moments of insight that enhance your personal journey and elevate everyday life. Visit http://www.sinailive.com for more information or contact us at connect(at)sinailive(dot)com.
About Rethink Partners

Rethink Partners is dedicated to shifting user and industry perspectives through a combination of business strategy, product management, sales and marketing, editorial, design and online implementation. Rethink Partners works with for-profit and non-profit organizations to help them reach their potential. We are focused on seeing both what is and what could be. Visit us at http://www.rethinkpartners.com.
More Film School Press Releases
Related Film School Articles