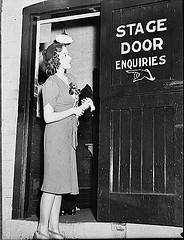 by
State Library of New South Wales collection
Article by Sid Kali
Errors & Omissions Insurance (E & O) acts like a shield to help protect indie film producers from a lawsuits dealing with copyright infringement, using music without proper permission, chain of title issues and a lot of other lawsuits that can come up when distributing a movie.
Without E & O insurance most film distribution companies will not release a movie through retailers. It's a necessary cost of doing business with a majority of distributors, even at the independent film level.
There are indie film producers that already have E & O insurance in place before shopping their movie to distributors. When they finalize their distribution agreement they submit a copy of the original certificate of insurance to the distributor adding the distribution company as an additional insured on the policy. Indie film producers that complete movies on a steady basis usually have an E & O insurance policy in place before principal photography begins.
A good rule of thumb to remember is that indie films should have E & O insurance coverage not less than $ 1,000,000 for each claim and $ 3,000,000 aggregate for all claims with a policy deductible no greater than $ 10,000. A good E & O insurance representative can explain the entire process based on your movie's unique elements.
There are those times an indie film producer realizes the original movie budget did not include a line item expense for E & O insurance or they had no idea that it would be a needed to get their movie sold and distributed. When they step to the table to sign a distribution agreement there is no money to pay for E & O insurance policy.
It's not the end of the world if you find yourself short on money to get E & O insurance. If a distributor is really hot for a movie they can front the cost through a carrier they deal with on a regular basis. The indie film producer will not have to go out of pocket upfront for the cost. But the distribution company will recoup the money spent from any sales, commonly referred to as a "charge back" to the indie film producer.
Be realistic that it's most likely the distribution company will not get an indie film producer a great rate on E & O insurance. Think of it like buying something on credit you can't afford and paying a higher interest rate later on. But if an indie film producer's pockets are light money there is not another choice unless you pass on the deal. Easy credit will cost indie film producers more of their future movie profits down the line.
An indie film producer is better off if they look around for E & O insurance, get a firm quote, and include that real cost into the overall movie budget before shooting one frame. Making indie movies takes a squeeze a nickel until it bleeds approach. Save all the money you can where you can in production! This is indie filmmaker Sid Kali typing FADE OUT.
About the Author
Sid Kali takes you inside his life as a filmmaker. Get the scoop on screenwriting, producing, directing, and movie distribution. Visit his blog at
Slice of Americana Films
Use and distribution of this article is subject to our Publisher Guidelines
whereby the original author's information and copyright must be included.
Sid Kali takes you inside his life as a filmmaker. Get the scoop on screenwriting, producing, directing, and movie distribution. Visit his blog at
Slice of Americana Films











Use and distribution of this article is subject to our Publisher Guidelines

whereby the original author's information and copyright must be included.


Artist: Trouble Song: "Let Them Tell It" Producer: Fly Boy Mixtape: 431 Days Director: Red Audio Films www.freeonsmash.com twitter.com twitter.com twitter.com
Simon Pegg talks about his talented dog, Minnie. Video by Lance Bangs. PEGGSTER Exclusive www.peggster.net More PAUL video blogs available at http
Question by : What licensing is needed to become a film producer?
I've been looking all over and found that you would need a Master's degree or a Bachelor's degree in master arts to become a film producer. Can anyone give me more detail on why you need those? Or if you need any other licensing? I have a paper that's due tomorrow and I cant get that last paragrpah done. Please help me 🙁
Thank you!<3 Best answer:
Answer by BlueDesert
You are completely wrong on all counts. You don't need any kind of degree to become a producer-tho it might help you. Most producers were involved in other parts of the film industry and gradually drifted into producing movies.
The basic thing a producer does is find a script he likes, then he adds actors who he thinks will be perfect for the roles. Then he hires a director to direct it all. The producer packages his idea with all this info and sells it to a studio. Then it is up to the studio to produce and make the movie. More often than not MOST movies never get made.
The ONLY REQUIREMENT for a producer is that they have more money than god-as they have to pay to put all this together. The ONLY requirment is being a multi-millionaire or a billionaire.
Many producers went to film school,but just as many never finished high-school. Producing movies is about PASSION for movies and not what degree you have or don't have.
A producer made The Blair Witch Project for a few thousand dollars. Michael Bay's productions cost upwards of $ 200 million dollars. There is lots of room for different types of movies made by producers.
Add your own answer in the comments!
"Titanic 3D" first Hollywood film in decades to play in Myanmar
LOS ANGELES (TheWrap.com) – "Titanic 3D" will sail into Myanmar on August 17, becoming one of the first major studio films to be released in the Southeast Asian country in decades, according to its producer Twentieth Century Fox. The re-release of …
Read more on Chicago Tribune
[wpramazon asin="B00005QK4S"]
www.euronews.com Which European animation movie will get into cinemas tomorrow? 2012's Cartoon Movie, gathering over 700 participants from 35 countries in the French city of Lyon, presented 55 European animation film projects in a bid to raise finance for films either in concept, development, production or already completed. How does Cartoon Movie work? In the morning participants get to see trailers of the movie projects presented here. Film producers, buyers, distributors and sales agents then go to one of the presentation studios for more information about the project that interests them. The key questions are: What's the story? How much money do you need? Is it a family movie or for teenagers? Are the DVD rights for sale? After the business cards are exchanged everyone hopes for the beginning of a fruitful co-production. One of the projects, "The Boy with the Clock" is the story of Little Jack who was born on the coldest day on earth with a frozen heart. A doctor performs a Cuckoo Clock transplant to save his life The film project in production is based on a book by French musician and writer Mathieu Malzieu. "I wrote the music as if the book needed a film soundtrack. I was already dreaming about it being made into a movie, even thought I was far from sure one would ever be made. But luckily I bumped into Luc besson and his wife Virginie who wanted to produce it," he says. What has the audience feedback been like for the movie presentation? "We've had a lot of very …
A few film producer products I can recommend:
QED Connect Agrees to Acquire Independent Film Producer
The orders were from a food processor, a hospital, a yeast producer and a College in Colorado. Nazz Productions, a movie producer. Nazz's feature film, "Good Day For It", won Favorite Feature at the 2011 Sonoma International Film Festival and opened …
Read more on Sacramento Bee

Los Angeles, CA (PRWEB) August 13, 2012
The changing role of women in our economy is evident. Women account for over fifty-one percent of all professional careers in the workforce, a majority for the first time in American history according to the Bureau of Labor Statistics. Women also make up an astonishing eighty percent of all consumer spending. To maintain this economic shift organizations and individuals have emerged dedicated to empowering more women to embrace their roll in the workforce both personally and professionally.
The California Women's Conference is historically the largest gathering of women in the country, boasting a network of successful female entrepreneurs, education and community support committed to the betterment of women. The Women Of Global Change, headed by Shellie Hunt, Founder and CEO, will join the star-studded event hosted at the Long Beach Convention Center, this September 23-24. Shellie Hunt and her organization is one catalyst of change riding on the economic wave cutting across this country and beyond.
As we join together alongside each other in non-competition we can create a wave for others – I am so honored to be part of the California Women's Conference, said Hunt about the upcoming event. As the founder of the WGC, it has always been my directive that when we come together we can create things bigger than we ever could by ourselves individually. I believe this is how to make a positive change and impact in the world; communities and humanity.
The Women Of Global Change stands for positive progress; change for individuals, communities and the world. The WGC is providing both men and women opportunities to work together in global business and in addition to that in humanitarian aid projects around the world benefiting those most in need, utilizing individual gifts and talents embraced and shared throughout the WGC community. Notable members include Les Brown, Bob Proctor, Bernie Dorhmann, Karen Hoyos, Lauren Miller, Michael Drew, Morris Nutt, and many more. http://www.TheWomenofGlobalChange.com
I feel that its important also as leaders to be able to not only focus on our own country but also the international role that women are playing around the world, Hunt added.
Along with her presence and support at the California Womens Conference this September, Hunt is moving forward with a mass media debut. Earlier this year Shellie signed a deal with Beverley Hills attorney Ken Browning, who has represented names such as Suzie Orman and William Morris. Hunt is also beginning the filming of a feature talk show pilot with Weller & Grossman, responsible for over 9,300 shows on major networks such as CNN, NBC and others.
About Shellie Hunt — Shellie Hunts gift of transformational impact has taken her clients beyond motivation to lasting results through teaching the precise How to in the designs of your success from the inside out. Her successes include, global entrepreneur, life coach, international motivational speaker, trauma expert, author of the Success is by Design series, and TV executive producer. Shellie currently is a proud member of the Alliance of Women and Media, which promotes positive progress and change for women and sits as a judge for the nationally televised Gracie Awards. More about Shellie Hunt can be found at http://www.successisbydesign.com or http://www.thewomenofglobalchange.com/