Article by Robert Levin
As someone who's attended two of the top film schools in the world, NYU and USC, I often get asked a simple question: Is it worth going to film school? The answer actually can't be answered in a yes/no fashion as it really depends on multiple factors regarding the individual student considering attending and what they hope to get out of the experience. This article aims to address some of the major points that one should contemplate when considering a film or cinema school education.
The first distinction that one should understand are the differences between attending an undergraduate or graduate film/cinema program. Undergraduate programs combine the general liberal arts education requirements that are necessary to receive a bachelor degree along with major specific classes in film and television. Usually the first two years are predominantly liberal arts while the junior and senior years include mostly major concentrated classes. Some programs start with film related classes earlier. Both USC and NYU start the beginning film student off with some film history as well as either video based (DV) or Super 8 filmmaking that progressively leads to more sophisticated film classes in later years.
Graduate program on the other hand vary more widely than the undergrad programs in scope, length and type. Graduate programs mostly consist of two years of in depth film and television coursework from day one. The resources that are at the student's resources tend to be greater than in the undergrad programs and the projects that are undertaken are more in depth. For instance, in the undergrad program the 'Senior Thesis' project is a short film of between 15-30 minutes in length that the student writes, directs and leads a crew of peers in producing. This is a fairly common "thesis" at most of the top film schools.
Graduate schools vary greatly however. Some do a similar 'short film' approach while others encourage the students to make a feature film. There are some programs, such as Columbia University's Masters Program that are actually more than two years and that combine directing along with writing into an overall Graduate thesis involving the creation of feature length scripts and films that can be entered into competition.
The goal of undergrad and grad programs differ as well. While both types of programs can train the 'technical' skills of an aspiring cinematographer or cameraman for instance, graduate programs tend to groom their students to make films that can be entered into the festival circuit and garner notoriety and attention for the filmmaker in hopes of his either getting his film 'picked up' or him gaining representation by a talent agency.
Undergrad programs on the other hand provide a more generalist education with the emphasis not being so much on the students creating 'festival' films but more on learning all the facets of filmmaking such as editing, sound, directing, camera, lighting as well as the business side of the industry. For further information about if film school is worth attending and to get more detailed information about how to decide please visit http://www.USCfilmschool.com.
About the Author
With Degrees in Film, Real Estate Finance and Development as well as a PhD in Psychology, Robert Levin writes expert articles covering a broad range of issues. Some of his websites include: http://www.toptenmba.com,
www.MBAonline.me, http://www.lawdegree.me, http://www.topvirtualserver.com and http://www.tvwriter.me
Use and distribution of this article is subject to our Publisher Guidelines
whereby the original author's information and copyright must be included.
Schindler's List is an American 1993 historical film directed by Steven Spielberg. It is a dramatized account of the true story of Oskar Schindler (Liam Neeson), a German businessman who saved the lives of more than one thousand Polish Jews during the Holocaust by employing them in his factories. Liam Neeson (born 7 June 1952) is an Academy Award nominated Irish actor from Ballymena, County Antrim. Neeson is probably best known for his role as Oskar Schindler in Steven Spielberg's Schindler's List (Best Picture 1993). Neeson himself was nominated in the Best Actor category that year but was beaten by Tom Hanks (Philadelphia). Running time: 195 mins (3 hrs 15 mins) Distributed by: Universal Studios
Video Rating: 4 / 5
One of the best ever films on Dyslexia asks the question, is dyslexia a disability or an ability and goes onto to highlight research that suggests dyslexics will be the intellectual elite in the digital and visual picture packed world of tomorrow. www.silvaproductions.co.uk Silva Productions A video production Company serving the Midlands, Birmingham, Worcestershire, Herefordshire, Gloucestershire and Wales. The first film ever made by Silva Productions back in 1999 but still popular today. An Unwrapped Gift features Tom West, author of In the Minds Eye which examines the role of visual-spatial strengths in the lives of historical people who were dyslexic, including Albert Einstein, Winston Churchill and William Butler Yeats The intimate and thought provoking video diaries of young people in the film have proved to be a very positive factor in families with teenagers coming to terms with their own dyslexia. Shown extensively throughout the UK and America the films narrative explains how we can learn from the distinctive strengths of dyslexics, rather than just focusing on their weaknesses and failures Testimonials People with dyslexia are given a voice in An Unwrapped Gift. It is not a video about how to treat dyslexia, it is a video celebrating the dyslexic difference. Jo Todd, Key Learning An Unwrapped Gift is a high quality film that makes a positive statement about a group of people who have historically been put through the mill by virtue of misunderstanding …
Question by kaeem91: What are the TOP film schools in USA?
What are the best film schools with good reputations in the USA?
Best answer:
Answer by bleed_intuition
I'd assume Full Sail would be up there.
Know better? Leave your own answer in the comments!
Two top Brentwood schools see drop in top A-level grades
He said: "Film directing is something popular but also clever, all blockbusters are a bit silly these days but things coming from Christopher Nolan like Inception are really clever and get people thinking. "I'm really happy and my grades were what I …
Read more on This is Total Essex
A Second Home In New Zealand.
Unique Guide Reveals Insider Secrets On How To Migrate, Live, Work Or Invest In New Zealand The Smart Way.
A Second Home In New Zealand.
Guru Larry's Films Yanks Can't Wank – Apaches (HD) www.youtube.com and www.youtube.com Apaches is a Public Domain Film. From Wikipedia (seems trustable in this case) Apaches is the title of a full-length Public Information Film (PIF) made in the UK in 1977. It was produced by the Central Office Of Information (COI) for the Health and Safety Executive (HSE) and shown extensively in the Southern, Anglia and Westward areas, before being shown either on film or videocassette in primary schools. The 26-minute long film deals with the subject of the dangers to children on farms, and has been broadcast in schools all over the country. The time frame of the film is somewhat confusing, giving a surreal feeling to the events portrayed. Apaches is now one of the most notorious public information films of all time. It was written by Neville Smith and directed by John Mackenzie.
A few top film schools products I can recommend:
Yukki Yaura Haiku: Illustrated Poems
An Ebook Containing Authentic Illustrated Haiku Poems In Colour.
Yukki Yaura Haiku: Illustrated Poems
Tony Scott Update: Director Had Personal Connection to San Pedro Bridge
According to police investigators, the Top Gun and True Romance director, the younger brother of filmmaker Ridley Scott, parked his Toyota Prius on the suspension bridge and scaled an 18-foot fence at about 12:30 p.m. before throwing himself into Los …
Read more on Hollywood Reporter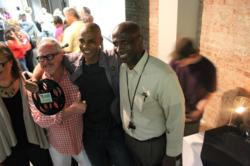 Shreveport, LA (PRWEB) August 15, 2012
In front of a live audience of 300 and online audience of more than 200 from across the U.S., Executive Director Gregory Kallenberg and Festival Director Chris Lyon announced the 20 finalists for the inaugural Louisiana Film Prize. The films will be shown at the The Louisiana Film Prize Festival Weekend (http://www.LAFilmPrize.com) October 5-7, 2012 in Shreveport, LA. The winner will take home a $ 50,000 cash grand prize, one of the worlds largest cash prizes for a short film. The Louisiana Film Prize invites filmmakers from all over the world to create and present a short film under one condition it must be shot in the Shreveport-Bossier area.
The grand prize winner will be chosen based on the votes of a panel of expert judges and the festival audience. Finalists are encouraged to heavily promote their film and enlist support from friends, family and the public to heighten their chances of winning. The complete list of filmmakers and their films is below.
This is setting up to be an incredible festival weekend for the Louisiana Film Prize, said Gregory Kallenberg, founder of the Louisiana Film Prize. To win the $ 50,000 prize, these filmmakers have to shout about their films from every rooftop. Its going to be part Sundance, part Lollapalooza.
This years jury includes journalist/author Hank Stuever (Washington Post), journalist James Hibberd (Entertainment Weekly), Tara McPherson (USC School of Cinema), Steve Beckman (Cinetic), Brandon Oldenberg, (Academy Award Winning producer of the animated short The Fantastic Flying Books of Mr. Morris Lessmore) and Alyssa Kantrow (Production Supervisor, Brad Pitts upcoming "12 Years of Slavery"), with additional jurors to be announced.
The national response to the Louisiana Film Prize has been pretty amazing," Kallenberg added. "It has been incredibly inspiring to see the amount of talent that went into all these films. Choosing the Top 20 out of the submissions was incredibly difficult, but we think we have a great group jockeying for the Grand Prize.
The Louisiana Film Prize received more than 80 submissions. The participating films utilized more than 650 people in cast and crew. Also, the participating films injected over $ 450,000 into the economy of Shreveport-Bossier through the payment of cast, crew, food, lodging and equipment rentals.
The icing on the cake has been the residual effect of the Louisiana Film Prize, said Kallenberg. This area woke up and found itself to be a viable indie film capital. People in the area really took part in this. They acted, they worked on set, and they made films. On top of that, the out-of-town filmmakers all seemed really impressed with pool of talent here and the welcoming, uber-friendly filmmaking environment. I believe that the Louisiana Film Prize has already accomplished some great things. The cool part is that were just getting started. We still have a festival weekend to put on.
Visit http://www.lafilmprize.com to learn more about the Louisiana Film Prize contest and festival.
2012 LOUISIANA FILM PRIZE FINALISTS:
528 Hz (Jeremy Enis)

A deaf girl falls for a musician upon a random meeting at a bar. A drunken miscommunication nearly thwarts the relationship before it can begin.
The Adventures of Captain Oliver (Bryan and Claira McManus)

Captain Oliver is a friend like no other, complete with button eyes, a proper felt mustache, and five funky tentacles. He is the loyal sidekick and trusted shipmate of the lovely Anna Claire. These two are inseparable, through calm and rough seas- but all of this changes in the blink of a button. Tossed overboard, Captain Oliver and Anna Claire find themselves apart as the brave Captain goes on an unlikely adventure to far out places filled with exotic characters where his only hope is to go with the flow.
Biggo (Josh Smith)

Biggo is a six year old boy who was born with a pair of unusually oversized hands. Either teased or simply ignored by everyone at his school because of his abnormality, Biggo struggles to find his place. The pain of his solitude is magnified by the fact that its Valentines Day.
Devil Has My Ear (Jamie Ryan and Scott Brooks)

Lost in the landscape of his mind, Gabriel (Matthew JC) battles the demons of his past as the devil (Marc Colombo) shows him the monster he has become. His gambling addiction has forced deadly loan sharks (PJ Abbott and Kyle Kosier) to collect a debt that threatens Gabriels life and family. To avoid losing everything he loves, Gabriel must overcome his ego and stand face-to-face with a world destroyed by his own hand.
Home Fires (Christy Ward)

Home Fires is an action packed comedy. Erica Braun has retired from her super secret elite assassins military unit and has come home to the family pecan farm of her youth. During her return to civilian life she receives a prototype vacuum, the iQ Cleaning System, from an old Soviet double spy, but it seems Constantine hasn't quite worked out all the bugs. It's side-splitting action and edge-of-your-seat comedy as this man v machine thriller takes you through its paces! Pecans! Karate! Fire! Vacuums! You won't be able to look away from Home Fires!
Im Sorry For (Mindy Bledsoe)

Eddy lives a boring life where routine is everything. His life quickly changes when he finds his controlling wife, dead on the floor. He decides its time to apologize to everyone for her wrongdoings, which brings his son, Joe, and daughter-in-law, Gina, into an uncomfortable position. Eddys new freedom may be his undoing.
Killing Time (L. Elizabeth Powers)

What if the boss you always wished would drop dead, suddenly did? What if it was your fault? In this short dark comedy, three work friends: Neecey, Nick & Sam are faced with that very dilemma. When their boss, Mr. Keller suddenly dies, their office adversary, Dean, is out to frame them for murder unless they can find a way to stop him. Killing Time is a short film written and directed by L. Elizabeth Powers and produced by Teri Kerr. It stars Taylor Coffman as Neecey, Bradley Silman as Nick, Ariane Perideaux as Sam, Paul Belcher as Mr. Keller and Dusty Emerson as Dean. It also features Kaci Ledbetter and Kara Rainer with appearances by Clint McCommon, Andie Knowles, Thomas Reich and Hugh Kerr.
Lay Me in the River (Ashley Bonn and Allison Morton)

Scarlett Calhoun has lived under the iron fist of her fathers religious extremism since the death of her mother, Danielle. In her small Southern town, Preacher Lyle Calhouns word is law and it focuses on preventing the sins of women. Until now, Scarlett has never questioned her fathers word, but his new interest in her best friend, Rebecca, has her worried. As Scarlett watches the darkness within her father start to leak out, she must find her independence and strength to stand up the only family that remains in her life.
The Legend of Luther Anderson (Thomas Woodruff, Noah Scruggs, Chris Armand)

Throughout history there have been many stories of legendary men and events from the old west. Most are well known, but there are a few that have fallen through the cracks of time. Legend speaks of such events that folks say are just a myth or absolute doo doo. Believers say the one responsible is a man who could not be killed, and no woman could satisfy his lustful appetite. This is the Legend of Luther Anderson.
Light (Cole Prine and Ethan Coop)

A man discovers a strange object that soon consumes his focus, his desire, his life.
A Man of Limited Emotional Means (Alejandra Valera)

How much does your upbringing affect who you will become as a parent? Nine-year-old Bell adores his unreliable father, Jackson. When his parents divorce, Bell must become Jackson's friend, cohort and at times caregiver — often with disappointing res
Find More Top Film Schools Press Releases