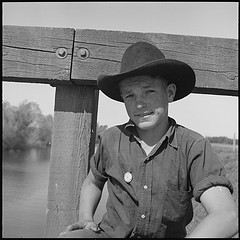 by
The U.S. National Archives
If you are the creator of a product of any type you may want to consider product licensing instead of simply selling all rights away to a company. The difference here is that product licensing gives a company or individual a specific time to use your product for a contracted amount. You can negotiate the amount and time before you sign the agreement but once it is signed by you and the interested part, the negotiation is over until the time expires.
There is no easy way to negotiate a licensing agreement since every need is different. You want to set your time limit and price based upon the needs of your client and not some pre-conceived notion of what is a fair and equitable agreement. Licensing agreements do not have a one size fits all-the products will be different and thus the time and price will also be different. It is essential to know when to negotiate for a higher fee and when to stay within the range the client originally offers.
You may choose to use a lawyer to negotiate your product licensing agreement, and though that is a wise decision to make, if you are new, you may not have the financial means to hire a lawyer. For those who are unable to afford a lawyer to draw up the agreement, you can purchase software or you can hire someone to prepare the agreement for you. The important issue is to make certain the person preparing the agreement, whether yourself or someone else, has your best interests in mind. If you contract someone to do the work for you make certain they are experienced in preparing product licensing agreements and are aware of the legal ramifications involved in the transaction?
The product you are licensing has a large impact on the terms of your licensing agreement. The higher the potential for future earnings, the more you want to charge for licensing your product. For example, if you own the rights to a collection of music that has the potential to bring in a large cash flow, you want to charge more for that license than you would for a new artist whose potential sales are unknown. The same methodology is true of an author-established authors who license their books rather than accept royalties or sell their rights will charge more than a new author or one who does not yet have a record of high sales.
Always look toward future income when setting your terms for licensing your product. It's important to understand the potential loss you may suffer if you charge too low for licensing and sales go quite high. You cannot always predict what sales will be but if you consult with your attorney or an economic expert you can get some idea of where you should draw the line and how you should negotiate your product licensing. Avoid overcharging but protect your future sales as well. If you aren't sure, you may want to consider a short-term agreement that will be open for renegotiation soon.
This is to your artful success [http://www.FINEARTSUCCESS.COM]
Have an idea for a book, or a manuscript you would like to see published email me and check out my artwork at [http://www.AWhitingOriginal.com]. Get a FREE art print.
Article Source:
http://EzineArticles.com/?expert=Dwayne_Whiting
The T-6A Texan II is a single-engined turboprop aircraft built by the Raytheon Aircraft Company (now Hawker Beechcraft). It is used by the United States Air Force for basic pilot training and by the United States Navy for Primary and Intermediate Joint Naval Flight Officer (NFO) and Air Force Navigator / Weapon Systems Officer (WSO) training. It is replacing the Air Force's T-37B Tweet and the Navy's T-34C Turbo Mentor. The T-6A is also used as a basic trainer by the Canadian Forces (CT-156 Harvard II) and the Greek Air Force. The T-6 is a version of the Pilatus PC-9, modified significantly by Beechcraft in order to enter the Joint Primary Aircraft Training System (JPATS) competition in the 1990s.The aircraft was designated under the 1962 United States Tri-Service aircraft designation system named for the decades-earlier T-6 Texan. A similar arrangement between Pilatus and British Aerospace had also been in place for an RAF competition in the 1980s, although this competition selected the Shorts Tucano. The Beechcraft brand has since been purchased from Raytheon by Onex Corporation as Hawker Beechcraft. T-6A The T-6A was introduced to Moody Air Force Base and Randolph Air Force Base in 2000-2001, and the Air Force awarded the full rate T-6 production contract in December 2001.Laughlin Air Force Base began flying the T-6 in 2003 where it is now the primary basic trainer, having completely replaced the venerable T-37. Vance Air Force Base completed transitioning from the T …

The Bristol Type 156 Beaufighter, often referred to as simply the Beau, was a British long-range heavy fighter modification of the Bristol Aeroplane Company's earlier Beaufort torpedo bomber design. The name Beaufighter is a portmanteau of "Beaufort" and "fighter". Unlike the Beaufort, the Beaufighter had a long career and served in almost all theatres of war in the Second World War, first as a night fighter, then as a fighter-bomber and eventually replacing the Beaufort as a torpedo bomber. Design and development The idea of a fighter development of the Beaufort was suggested to the Air Ministry by Bristol. The suggestion coincided with the delays in the development and production of the Westland Whirlwind cannon-armed twin-engined fighter. By converting an existing design the "Beaufort Cannon Fighter" could be expected to be developed and produced far quicker than starting a completely fresh design from scratch. Accordingly the Air Ministry produced specification F.11/37 written around Bristols suggestion for an "interim" aircraft pending proper introduction of the Whirlwind. Bristol started building a prototype by taking a part-built Beaufort out of the production line. This prototype first flew on 17 July 1939, a little more than eight months after the design had started and possible due to the use of as many of the Beaufort's design and parts. A production contract for 300 machines had already been placed two weeks before the prototype flew, as F.17/39. In general …
Question by : Recording without a production contract?
What are the risks for the artist/songwriter? What are the risks for the independent producer/company?
Best answer:
Answer by Quizzard
The risks of the artist are limited, other than the recording studio having a copy of their work. That work cannot be published without permission, so that risk is limited.
The risk for the studio or producer is that they spend time and effort and have no product which they can sell.
Add your own answer in the comments!
Dandong inks agreement for textile manufacturing base
The Fixed Star Group Functional Textile Manufacturing Base will be built in Dandong, according to a contract signed on Aug 14 between the Fixed Star Chemical Co Ltd and the Dandong Environmental Protection Industrial Park. The total project investment …
Read more on China Daily
[wpramazon asin="1231087188″]
This is the first single from X Contracts new album; "Dearest Dream" – Out April 16th 2012 You can buy the single on iTunes: itunes.apple.com Find us on Facebook: www.facebook.com Video Produced by Reptilia Productions(c) With Steffen Nielsen & Anne Stenholt Directed, filmed & edited by William Findinge Production lead by Michael Lander & Morten Søgaard Visual Effects & Colorgrading by Mathias "Tudse" Tegtmeier Produced by William Findinge & Oliver Bust Thanks to Joan Granholm Birgitte Findinge Lajla Daugaard Hotel Sabro Kro Mediehuset Aarhus
A few production contract products I can recommend:
Production Spat in Upcoming Scorsese Flick
Now that it has control of the project, Red Granite has allegedly refused to honor a producer's agreement Milchan signed in 2007. Red Granite tried to change the terms of the deal, then froze Milchan out of the project altogether, according to her …
Read more on Courthouse News Service

Bellevue, WA (PRWEB) August 28, 2012
Efinancial Wholesale, a premier Master General Agency that provides products, service, and support to life insurance agents across the United States, has teamed up with American General to offer a new sales incentive program for their member agents.
Every agent who submits 10 American General universal life policies in August and September 2012 will earn a $ 100 American Express gift card. The gift cards are good anywhere American Express is accepted. The American General universal life policies included in the contests are Secure GUL, Secure SUL, Elite UL, and all Global products.
Life insurance agents are encouraged to take full advantage of this opportunity. There is no limit to the number of gift cards that can be earned. Agents can continue to submit for gift cards through the ending of the contest on September 30, 2012.
We are excited to offer this exciting and fun promotion to our life insurance agents, says Pete Kalasountas, Efinancial Wholesale Director. We are committed to providing the best services for our contracted agents and are excited to be teaming up with American General for this incentive.
Insurance agents interested in participating in the sales contest are encouraged to get contracted with Efinancial Wholesale. Contracted agents will also gain access to a full line of insurance products, training, support, and the ALISS customer relationship manager system.
For more information, please contact Efinancial Wholesale at 1-800-648-9504 or visit the website at http://www.efinancialwholesale.com/.
About Efinancial Wholesale
Efinancial is a full service online wholesale life insurance brokerage. Offering a comprehensive life insurance framework, Efinancial Wholesale provides their community of life insurance brokers with resources and technology to remain competitive in the life insurance industry. Headquartered in Bellevue, Washington Efinancial is a licensed broker in all 50 states with access to the top-rated life insurance carriers in the market.
###
Find More Production Contract Articles