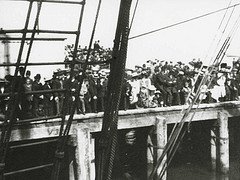 by
The National Archives UK
Since the beginning of time, film producers have captivated us with the unforgettable experience of cinema. Stepping back in time to the earliest days of the World War, we were being entertained by film and media. It seems that no matter what was happening in the world at one time, we needed a form of entertainment or comfort to provide a distraction from the boredom or tragedy of real life. All parts of the globe were entertained and comforted by the different types of films present in the world. The beauty and attraction of film tended to transcend language, culture, religion, age or century and transformed our lives into anything we wanted to see or hear to distract us at any time.
Although film has been there in all times, it was particularly in World War II, that Hollywood produced a combination of escapist fare, political attire, social criticism and relevant to the time – war films. A brutal war film that centred on the fight in America was Tay Garnett's Bataan. Also, Humphrey Bogart was again the star in the hard hitting war drama Sahara (1943) set in the spectacular dessert. These films were intended to provide some entertainment even in the darkest times.
Hence, the films of the 1930's or 1940's in Hollywood established a solid industry and one of the most powerful and pervasive systems of image production and distribution that the world has ever experienced. The motion picture was then born. The pioneers of this amazing industry were totally amazed to see the Hollywood cinema emerge as an international benchmark for glamour, star power, spectacle, action and narrative compression.
It was from this that the movie industry flourished, and developed into a big business entertaining those all over the globe. No longer was a movie just a simple form of entertainment, it was now characterised by glamour, power, money and the red carpet. Actors and actresses then became stars receiving worldwide acclaim for their outstanding performances. Cinema established credibility and stability to become a timeless form of entertainment in any era, country, religion or time.
As we regress over history, we see the humble picture in black and white transform itself and dazzle onto the screen to become one of the most glamorous industries in the world. From the humble days of Charlie Chaplin with simple black and white films, we have experienced a transformation of the cinema into fame, glamour and international acclaim. It seems it still has potential to develop further and further.
Produced by Image Quilt Productions (imagequilt.com) This is an exercise video with a Master instructor focused on Qi Gong (Xi Gong) exercises which help people cope with Hepatitis C. Filmed during the Caring Ambassadors Program retreat to the Omega Institute in Rhinebeck, New York. Image Quilt is also producing the film, "How to Stay Sane in Paris" which recently opened as a stage play at the Theater at Joria Productions in New York City. For more information on our work go to http tel: 607-238-2546 To Contact Master Wong: Sifu Larry "Ding Gui" Wong Director of "Wong's Taiji & Qigong for Health" (415) 753-0426 www.FlowWidit.MySite.com
Video Rating: 4 / 5
0800072 – Developing and Producing the B-61 – 1970's – 26:29 – Color – The B-61 thermonuclear bomb, first produced in 1966, has developed into an extremely flexible weapon. Its many different modifications has made it able to fill the multipurpose needs of the military. Major modifications were made to the B-61 in 1966, 1975, 1977, 1979, and 1991. Designed by the Department of Energys Los Alamos National Laboratory in northern New Mexico, the lightweight bomb could be delivered by the Air Force, Navy and NATO planes at very high altitudes and at speeds above Mach 2. The 141.6-inch long, 13.3-inch diameter bomb averaged approximately 750 pounds, but actual weight varied with each modification.
Question by Cosmetic Counter: How can producing a film help an actor become better?
I know many famous actors and actresses have produced movies and they said it's helped them become a better actor, but how? What is it that they are exposed to in producing that they would normally not be exposed to while acting that benefits them so much? Any information is going to be helpful. I'm trying to get a student who is a model/actor to produce a short video here at the school and want some convincing information to present to him on how it could possibly help him in the future as he pursues his actor/model career.
Best answer:
Answer by Theatre Doc
I don't see how doing the business work of producing a film could have any bearing on one's acting. It could make you a more compassionate person toward the problems the producers and directors face, but that really has nothing to do with the quality of one's acting.
What do you think? Answer below!
Teijin CNF Korea Begins Production of LIELSORT(TM),Innovative Separators for …
… today that Teijin CNF Korea Co., Ltd., an Asan-based joint venture between Teijin and major Korean film processor CNF, has begun commercial production of LIELSORT(TM), a Teijin-developed innovative separator for lithium ion secondary batteries (LIBs).
Read more on MarketWatch (press release)
Start Your Own Real Sky Tv Channel
We Will Show You Through A Simple Step-by-step Guide, How You Can Setup And Run Your Very Own Satellite Tv Station In The UK On Sky And Sky Earn 50% Commission On Each Sale!
Start Your Own Real Sky Tv Channel
[wpramazon asin="024080970X"]
Vavachan Intro , Secondshow Malayalam Movie Second Show is a Superhit Action/Comedy/Drama Malayalam film directed by debutant Srinath Rajendran, starring Dulquer Salman, Mammootty's Son and Gauthami Nair in the lead roles.Megastar Mammootty\'s son Dulquer Salman is debuting in through the film Second Show. Megastar Mammootty's son Dulquer Salman, debuting in movies through the film Second Show. The Megastar's son will star alongside debutante Gauthami Nair in debutant director Sreenath Rajendran's movie. Both director and screenplay writer are friends of Salman. Director Sreenath Rajendran was the assistant of Jayaraj for the film Loud Speaker. Debutant Vinu Vishwalal has penned the screenplay and dialogue. Dulquer plays the role of an underworld don. Pappu, assistant cinematographer of Rajeev Ravi, will crank the camera. AOPL International Pvt Ltd is producing the film Second Show. Violin of Sibi Malayil was produced under this banner. Baburaj and Salim Kumar are also appearing in supporting roles. Kaithapram has handled the music. Avial Band is also contributing with a musical number
A few producing a film products I can recommend:
Screenplay Writing Secrets!
Screenwriting Is A Billion Dollar Industry! High School & College Students And Aspiring Writers Often Try To Write The Next Blockbuster Movie Script. This Guide Teaches Ground Breaking Screenwriting Secrets. Use Our PPC Banners At Our Affiliate Page!
Screenplay Writing Secrets!
Stockholm, Sweden (PRWEB UK) 9 July 2012
Lyndelle Palmer Clarke is passionate about helping others transform their lives, and the launch of her new self-help journal "dailygreatness journal: a practical guide for consciously creating your days", available via http://dailygreatnessjournal.com/, is designed to create permanent change through creating new habits and ways of thinking.
I believe personal development is the key to success in life, but the motivation from most self-help books & seminars quickly wears off," she said in a recent interview. "Unless you consistently apply the principles and make it your way of life, years later you'll realise nothing has changed. I wanted to create a practical guide for applying the self-help strategies most of us already know but arent consistently applying."
The dailygreatness journal is really the end result of having walked through some pretty dark periods in my life. I had to dig deep, make some tough choices. Thats when I began to write and create a kind of daily ritual for connecting to my inner voice and rediscovering my passion and purpose for life. Its the personal development journal I always wanted, Lyndelle explained.
When the Australian actress and singer moved to Sweden for love, she never realised how tough the transition would be. Struggling to find work that was fulfilling, enduring three long cold winters and losing her passion for life, she fell into a deep depression wondering if shed made the right decision.
Lyndelle is no stranger to the limelight or to Sweden. A professional singer and trained actress, shes appeared on Australian TV series & films and was a finalist on Australian Idol. While signed to a major record label she visited Sweden a number of times to write and record with some of Swedens biggest songwriters & producers, even recording in Benny Andersons studio. Sweden always seemed to call her back.
However, Lyndelle found herself questioning the sustainability of a career in the entertainment industry, feeling compelled to live a more conscious life of pursuing her passion for personal development and human potential. A life-long advocate for personal growth with a head full of self-help books, Lyndelle struggled to understand why, after all the knowledge she had from all the books shed read, it was so difficult for her to adjust to life as an expat.
Five years on, Lyndelle has emerged as an author, inspirational speaker and entrepreneur who now coaches and inspires others to believe in themselves, take leaps of faith and follow their hearts, even if that means going through tough times. Now engaged to her Swedish sambo, she takes her message to the world through her blog and podcasts with thousands of fans and followers on social media.
The self-help journal, published through Dreaming Room, is available at local bookstores Vattumannen & Klackenbergs or on Amazon.co.uk.
Follow her journey and meet her in person at Vattumannen, Drottninggatan 83 on 11th July and 18th September, 2012 17.30 for an instore book signing.
About the Author: Lyndelle Palmer Clarke is an