An employment contract agreement serves as a contract between the employer and employee, for which, as long as the employment subsists is binding to both parties. This is because of the nature of a contract being a law between the contracting parties.
An employment contract agreement could contain a number of things. First of all, it must clearly indicate who the contracting parties are and a statement that both parties entered into the contract with capacity and full consent. Consent and capacity are essential elements of a contract and without it nothing in the agreement will be valid. The agreement is void ab initio or void from the beginning. The agreement must also contain the date when it was perfected and sign. This will be the basis of the commencement of the agreement and the benefits, responsibilities and liabilities that come with it.
This agreement must have terms or stipulations. If the employment is only a 5-year contract, such should be expressly included in the agreement. What happens after 5 years, whether the employment automatically ends or if it is subject for renewal or if it is not should also be in the agreement.
Compensation is one of basic things that have to be stated in the agreement. An employee's motive to joining a company is almost always the remuneration. Thus, the amount of monthly salary, the bonus, the paid leaves, etc. must be carefully expressed.
The agreement must also contain what happens upon the termination of the employment. There will always be an option to leave anytime an employee wants because of the constitutional prohibition on involuntary servitude but what the consequences are for early termination on the part of the employee and also if the employer terminates the same must be included in the agreement. There are a number of reasons for leaving the company, and for each reason, the consequence may differ. It must not be forgotten also that if such thing happens, the employer or employee may, aside from violating the agreement, be violating federal laws as well. The punishment for that need not be included in this agreement.
Other inclusion in this agreement are a non-compete clause, the how and when performance may be evaluated, the overall responsibility of the employee, the hours required to render by the same, and so many more.
An employment contract agreement may contain any type of stipulation. But none of which is valid if it be contrary to law, morals, customs public order and public policy.

Free Legal Documents – DIY Legal Forms & Contract Agreements. Click Here: www.legaldocumentaid.com – Need legal documents for Wills & Power of Attorney? Do you need Rental or Lease Forms, Real Estate Forms, Eviction or Lease Notices. Do you need agreement forms for Loans or Debt? In need of Service Related Forms or documents concerning Marriage or Divorce? Are you looking for Music or Entertainment Forms, Corporate Forms, Sales Related Forms, Partnership and Joint Venture agreements, Human Resource Forms or Intellectual Property Forms? For many contracts and legal agreements you don't need to consult a lawyer. You can very easily do it yourself as long as you have the correct legal documentation. This can save you a lot of time and of course a lot of your money too. Written agreements provide documentation or evidence of each party's expectations. A written contract allows each party to clearly define all terms and conditions. Having the contract in writing is proof of what was agreed to, and may help prevent costly misunderstandings later on. To find out more about how you can obtain the correct legal documentation you need, visit our website today and take advantage of our time limited free offer. http
Video Rating: 5 / 5

yourbookisyourhook.com — Renee Duff, intellectual property and publishing contracts attorney,will talk with radio personality and host Jennifer S. Wilkov about why it is important for authors to understand the impact of a mishandled publishing contract. She'll also discuss the variety of rights addressed in the contract including how to cover technological developments that haven't even been imagined yet. Ms. Duff will also talk about the different roles an agent and an attorney play for the author as well as why authors should temper their exuberance in signing a contract just because they got offered one. Author, domestic violence survivor and advocate Nancy Salamone will discuss with radio personality and host Jennifer S. Wilkov what inspired her to write her memoir, Victory Over Violence, and how she wrote about her painful experiences. She'll also discuss how she chose to publish it and how she's using her book as her hook to help other women. Ms Salamone will also talk about economic abuse and how it is an equal opportunity offense. She'll also share how she designed and developed her financial self-sufficiency program called "The Business of Me" that she teaches other women around the world. Host Jennifer S. Wilkov will talk about the reality show for books as an idea whose time has come during her Education Corner segment during the show. Click Here to Listen Now bit.ly If you have questions about any of these interviews or the education corner topic included in …
Question by mickey: FREE LEGAL CONTRACT AGREEMENTS -Do you know of ANY?
I need to download some free binding contract agreements between worker and employeer for contract work on a house of mine.
Do you know of any free websites or places I can get these?
Best answer:
Answer by Michael F
Not free – but stop at your Staples, Office depot, or Office Max
They should have some general use contracts
Add your own answer in the comments!
Farstad Shipping ASA – Charter Agreements
Farstad Shipping ASA has been awarded the following charter contracts: Statoil has awarded Farstad Shipping ASA a long-term charter contract for two platform …
Read more on Reuters
Website Purchase Agreement Sales Contract
Our Website Purchase Agreement Is A Legal Document That Can Be Used Between Two Parties About To Perform The Sale Of A Website Or Domain Name. Absolutely Necessary When Trading Online Assets.
Website Purchase Agreement Sales Contract
[wpramazon asin="1413316301″]
Half Right is not right in law how to use the rules in your favor, foreclosure, credit card debit, and civil action, fraud The moment you find fraud you should seek remedy. Federal court, not state court, because it is a federal question. All national banks are instrumentalities of congress. The powers of a bank are listed in their charter. Cannot loan credit. Cannot charge interest or usury. Since the charter does not give it the right to loan credit or charge interest, the contract is ultra verus, illegal from the beginning. Contracts for credit cards and loan agreements, foreclosure, are void. After 28 days after filing a complaint, file a motion for summary judgment. Evidence: Bank Charter and your contract. Make a motion for summary judgment as a matter of law. The judge cannot rule in their favor at all, because it's an illegal contract, you must prevail.
Check out these contract agreements products:
Theseus Take-off from Rogers Dry Lake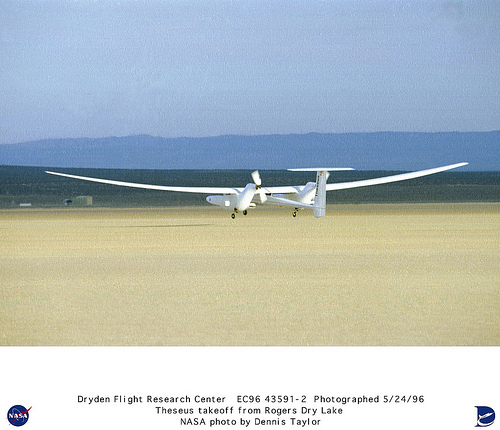 Image by NASA on The Commons
Collection: NASA Image eXchange Collection
Title: Theseus Take-off from Rogers Dry Lake
Description: The Theseus prototype research aircraft shows off its high aspect-ratio wing in this rear view of the aircraft as it takes off on its first test flight from NASA's Dryden Flight Research Center, Edwards, California, on May 24, 1996. The Theseus aircraft, built and operated by Aurora Flight Sciences Corporation, Manassas, Virginia, was a unique aircraft flown at NASA's Dryden Flight Research Center, Edwards, California, under a cooperative agreement between NASA and Aurora. Dryden hosted the Theseus program, providing hangar space and range safety for flight testing. Aurora Flight Sciences was responsible for the actual flight testing, vehicle flight safety, and operation of the aircraft. The Theseus remotely piloted aircraft flew its maiden flight on May 24, 1996, at Dryden. During its sixth flight on November 12, 1996, Theseus experienced an in-flight structural failure that resulted in the loss of the aircraft. As of the beginning of the year 2000, Aurora had not rebuilt the aircraft Theseus was built for NASA under an innovative, .9 million fixed-price contract by Aurora Flight Sciences Corporation and its partners, West Virginia University, Morgantown, West Virginia, and Fairmont State College, Fairmont, West Virginia. The twin-engine, unpiloted vehicle had a 140-foot wingspan, and was constructed largely of composite materials. Powered by two 80-horsepower, turbocharged piston engines that drove twin 9-foot-diameter propellers, Theseus was designed to fly autonomously at high altitudes, with takeoff and landing under the active control of a ground-based pilot in a ground control station "cockpit." With the potential ability to carry 700 pounds of science instruments to altitudes above 60,000 feet for durations of greater than 24 hours, Theseus was intended to support research in areas such as stratospheric ozone depletion and the atmospheric effects of future high-speed civil transport aircraft engines. Instruments carried aboard Theseus also would be able to validate satellite-based global environmental change measurements. Dryden's Project Manager was John Del Frate.
Date: 05.01.1996
Credit: NASA Dryden Flight Research Center (NASA-DFRC) [ www.dfrc.nasa.gov/gallery/ ]
ID: EC96-43591-2
UID: SPD-NIX-EC96-43591-2
Original url: nix.ksc.nasa.gov/info?id=EC96-43591-2&orgid=7
SOURCE: nasaimages.org/luna/servlet/detail/nasaNAS~2~2~2652~104118
Visit www.nasaimages.org for the most comprehensive compilation of NASA stills, film and video, created in partnership with Internet Archive.
Utica teachers, district reach tentative contract agreement
The Utica Teachers Association and the school district have reached a tentative agreement on a new contract.
Read more on Utica Observer Dispatch

Saudi Arabia (PRWEB) June 14, 2012
Crooked Brook, makers of "The World's Highest Quality Chef Jackets" was contacted by Raf Griep, Executive Chef and Culinary Directory of the InterContinental Hotel Groups Al Khobar to cut, sew and embroider his custom chef coats.
The first chef jacket was Crooked Brook style BSM 103H, made in White, 100% Egyptian cotton Gabardine fabric with Rivershell buttons and a hidden placket.
The second one was Crooked Brook style BSM 103H, 100% made in Black Supima Gabardine fabric with Rivershell buttons and a hidden placket.
Embroidery on the left chest for both jackets is as follows:

White – On left chest in Old Gold, Raf Griep

Black – On left chest in Silvery Grey, Raf Griep
About Raf Griep
Fluent in English, German, Dutch and Spanish, Chef Griep has over 20 years of experience in gastronomy. Over the years and through his work in various parts of the world, he has gained excellent cross-cultural experiences, which have enabled him to manage people of different backgrounds and work easily among different cultures. Since Feb 2007, he has held the position of Culinary Director/ Executive Chef in charge of F&B | Leisure, Travel & Tourism at the esteemed InterContinental Hotels Group. Griep was Chef de Partie at Thomas Kellers French Laundry.
About Crooked Brook
Crooked Brook is a unit of the atelier division of an art studio that offers full service apparel design, pattern making, sample making, private-label small lot production and embroidery. Since 1989, theyve built a strong reputation of providing top-notch apparel designs, patterns, fit and production samples for many brand name catalogs and retailers, as well as wardrobe and costumes for movies, television and theater.
All Crooked Brook branded garments and accessories are proudly made to order in the U.S.A.
Because of their unparalleled attention to detail in tailoring, they were awarded a Supima