There are many different fields to choose from within game. Many newcomers start off choosing the acting area when they start. It is the most visible of the mediums and the one most people are familiar with, usually because they have done plays in high school.
A lot goes into making a film, so being an actor is not your only option if you want a career in the entertainment biz. Have you ever watched the credits of a movie or TV show? Did you see all those people that they are giving credit too? Those are jobs in the business that you could get and not have to be in front of the camera.
Do You Want to Be an Actor? — It's fun, it really is. Acting can be very rewarding and a lot of fun. You need to start acting in anything you can as soon as you can. It will only help you in the long run. A head-shot and resume are in your future as well and there are many different books and web sites that can help you with that.
College Acting Programs — A great start to an acting career is to go to college and enter the Theater or Film program.
It's a great way to learn your craft and meet people that have the same career aspirations as you, which is great for networking the rest of your life.
Acting Classes — There are 10′s of 1000′s of independent acting schools you can attend if you are not interested in a traditional college program. Many of these programs are taught by seasoned professionals and highly respected, so don't think going to a college is the only way to go.
Acting Method — Most acting techniques are variations of the Stanislavski system. They have just been slightly altered by different people over the years. They are all good, so check them out see which one you are most comfortable with.
Film School to LEarn Your Craft– Maybe you don't want to be in front of the camera.
Well, go to film school and try your hand behind the lens. These schools will teach you every aspect of film making from lighting to directing.
NYU Film School – Often considered the best. If you get in here, you are playing with the big boys.
Agents — Agents are a must to keep your acting career going. There is no way around it if you are goingto be an actor. But, hey, maybe you want to be an agent? Go for it! It can be a very rewarding job if you do it right.
Write a Screnplay or TV Show — Many have found out they are better at writing than acting. Try it. You may just find out that's the way to go.
It's hard, but it can be a fun and fulfiling way to make a living. Try some of the behind the scene jobs in Hollywood if acting doesn't do it for you, but you still want to work in the industry.
Educating yourself about Movie making is easy. Click the text to get more information about stuff like NYU film school.

Dynamic Producer Event
Bill Cooper,Jordan Maxwell,Michael Tsarion and Manly.P.Hall(33rd degree) provide the commentry for this video which deals with the true occult forces behind Hollywood and the sacred symbolism used to control .Take in the information and then see for yourself..Peace
Video Rating: 4 / 5
Question by Jasmine: Do you people think Video game jobs in hollywood give any benifit for the students of hollywood film school?
Best answer:
Answer by Simi Smith
Video games are among the newest crazes for youngsters all over the world and www.hollywoodentertainmentjobs.com give much carrer oppurtunity for the students of hollywood flim school.
Know better? Leave your own answer in the comments!
Recommended: Hometown Hollywood: What's the best movie shot where you live?
The Twin Cities are no Hollywood and "Purple Rain" isn't exactly "Citizen Kane," but you couldn't have told me that when the rock musical, filmed in and around my hometowns, burst on the scene in 1984. I was in high school, too young to be one of the …
Read more on msnbc.com
[wpramazon asin="1403972931″]
On July 13, 2012 — International Digital Cinema Workshop attendees went on an exclusive field trip to Los Angeles Film School and USC Institute for Creative Technologies. Workshop attendees received a guided tour of the Chaplin Stage, Ivar Stage, Light Stage, Live 3D Teleconferencing studio, and much more. For more information about the International Digital Cinema Workshop, visit DigitalCinema.CSUSB.edu or e-mail DigitalCinema@CSUSB.edu. Credits: Marketing direction by Anthony Ragland. Video produced by Cal State San Bernardino students David Chaidez (editor), Ken Perry (videographer), Jorge Mejia (videographer) and Hernan Calderon (videographer).
Check out these hollywood film school products:
Liberty University Campus, Students Star in New Film
For film students, Finding Faith provides an opportunity to gain hands-on, professional experience. Austin Lewis, who will enter Libertys film school in the fall, was hired as a gaffer, working as a camera assistant and lighting. He hopes to work in …
Read more on Broadcast Newsroom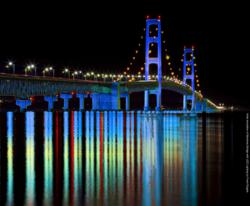 Mackinaw City, MI (PRWEB) July 18, 2012
A Mackinaw City, MI campground owner has a dream. Vince Rogala, of Mackinaw Mill Creek Camping, would like to see the Mackinac Bridge outfitted with a computerized LED lighting system.
"The system would create a five mile long, 552 foot tall light display, not to mention save energy and lower maintenance costs," said Rogala. "There could be a different color theme each month or even each night. Imagine holiday colors (Green for St. Patricks Day, Red for Valentines Day), as well as commemorative displays (blue for Autism Awareness and pink for Breast Cancer Awareness). Its a way of making the 50 year old Mackinac Bridge 'new' again! It is possible to make the Mackinac Bridge an even greater attraction," explained Rogala.
Rogala received an invitation to present his idea to the seven-member Mackinac Bridge Authority at their July 2012 meeting on Mackinac Island. The Mackinac Bridge Authority, which was established in 1950, oversees the financial and legal services necessary to preserve and maintain one of the worlds leading suspension bridges.
It was a great opportunity to get in front of not only the decision makers on the panel, but also the engineering staff for the bridge, said Rogala. Vinces presentation showing artworks, narration, and a short video was set to run about 8 minutes, but ran well over 20 minutes as board members asked questions and expressed their thoughts.
To sum it up I'd say the Mackinac Bridge Authority is intrigued with the concept of an LED lighting system for the bridge. They were very open to the idea. We discussed thoughts on how to balance and preserve the historical character of the bridge with a fresh modern element. After finishing, the board took the time to compliment my presentation said, Rogala.
Explaining further, "The Bridge Authority encouraged me to continue building local and state wide support, to pursue ways to finance the project, and left an open invitation to readdress the Bridge Authority as the undertaking moves forward said Rogala.
The origin of the idea came to Vince as he was researching LED lighting for illuminating trees. Vince is one of four brothers who operate one of Michigan's largest family owned campgrounds, Mackinaw Mill Creek Camping, (http://www.CampMackinaw.com). I was looking on the web for a new way to provide nighttime lighting that was both practical and tranquil for our campground. I came across LED architectural lightning on large structures, one of which was a bridge, when instantly it dawned on me – how amazing the Mackinac Bridge would look with LED lights! explained Rogala.
"I wasnt sure how popular or possible the idea would be until I started casually telling people about the concept. Everyone was eager for more information, and full of lots of questions. I knew I needed help spreading the word, so I asked my brother Frank to give me a hand," explained Rogala.
Vince and Frank both have experience in the entertainment industry, having signed a record deal together in Hollywood just after graduating from Mackinaw City High School. Experienced at creating music, video, and films, they have landed their work on major record labels, MTV, the Sundance Channel and NetFlix. Frank has the artistic skills in video, sound, and the Internet that were needed to bring this idea to a bigger audience, explained Vince.
The brothers created photo illustrations of what the bridge might look like lit with colored LED lights, and then after finding dozens of videos on YouTube showing other bridge lighting projects, they assembled their own. The final step was putting all the material onto the web, including Twitter, YouTube and Facebook, so that it could be easily viewed and shared by those who might support the idea.
As an enthusiastic champion of the Mackinac Bridge, Rogala has seen the bridge from many viewpoints, Like hundreds of thousands of others, I have walked the five mile span on the Labor Day Bridge Walk. I've taken sunset cruises under the bridge, walked through the underbelly of the steel superstructure with the rumble of traffic just above my head, but Rogala recalls his most exciting memory was while working as a videographer. Shooting the Bridge provided Rogala the rare opportunity to go to the very top of the 552 foot towers on three different occasions to capture footage. It was both terrifying and breathtaking, recalls Rogala.
Vince adds, "Coincidentally, Frank had just finished creating an artist rendition of what the bridge could look like lit with LED lights for the 4th of July, on the actual 4th of July. That very night at our campground, which has a mile of shoreline on the Straits of Mackinac, a couple thousand of our campers gather along the shore to watch the 4th of July fireworks from Mackinaw City, St. Ignace and Mackinac Island. Those fireworks always raise cheers and I thought 'what if the 5 mile long bridge was simultaneously animated in Red, White and Blue during the fireworks' – it would be spectacular. There would be nothing like it anywhere else."
"These types of systems have been installed around the world, they last 25 years, and with the lowered energy and maintenance cost, they make sense," added Vince. "We aren't inventing the wheel, we just want to bring it to Mackinac."
Following the suggestions of the Mackinac Bridge Authority, Rogala is asking the public to show their support by liking the "Light The Mackinac Bridge" page on Facebook (Facebook.com/LightTheMackinacBridge) and by spreading the word by sharing the video about the project or leaving a comment at http://www.LightTheMackinacBridge.com and following the effort on Twitter @LightTheBridge. Rogala is beginning work on a fundraising effort to raise money for billboards, media and internet ads in order to gain public and political support as well as corporate sponsorship to "Light The Mackinac Bridge" .