by
State Library of New South Wales collection
Selecting an online film making course is easier now than it was a few years ago. As the popularity of the internet grew, more businesses were making their services available online. And as people grew more familiar with online businesses and their trust in doing business on line grew, many began to look to the internet as a valuable learning resource as well.
There are many advantages to taking film courses online. One of the major benefits is the flexibility in being able to take courses from home whenever they want. For those that have tight schedules and cannot attend an outside class, having the ability to take classes online according to your schedule is an added benefit. The costs of online courses are also cheaper than going to a college or university course. Film school is very expensive and the very same principles can be successfully learned online.
Online film school instructors are usually individuals that were once in the industry or are still currently active in the industry. Many are film makers and are able to share their knowledge and experience of working in the film industry. Before signing up for any online film class, you should make sure that the instructor has the level of experience and credentials necessary to deliver the training that you need. The courses are set up many different ways. Some offer discussion boards so that other students can interact with each other. There are a number of ways to facilitate communication with the teacher and fellow students in an online class.
Many online courses offer video lessons. These lessons will go into full detail about everything you need to know about creating and editing your own films. These are very helpful when it comes to the technical aspects of film making. Video links will often show how to use certain video equipment. This is better explained with a visual than just text instructions. If the student has any questions, they can either call or email the instructor. Each online course has its own way of communicating with their students.
There are many different ways to teach film course over the internet. Some will also send their students a set of CD-roms to supplement the online training. The CDs or DVDs will usually go into further detail and will reinforce subject matter that was discussed in the online course. There is also textual information that can be downloaded from the site to provide additional training materials.
It is important to select a comprehensive online film course. Film school involves a lot more than just shooting the actual video. You will have to know how to write the screenplay, create a budget for your film, understand complex film theory and many other factors. This is all possible in an online film school but you will have to do your research to find the best fit for you.
Most of the online film schools offer advanced film school training. The course work is typically broken down from beginning, intermediary and advanced concepts. Film school training online may also include information on animation and digital media. There is a lot that can be learned from an online film school. And many will provide their students with a certification upon completion of the course.
An online film making program that is comprehensive and affordable is not so hard to find. A simple online search will produce a number of internet film schools that offer many different types of courses. It is a good idea to investigate as many schools as you can before making a final decision.
Sign up for TZM Mailing List: www.thezeitgeistmovement.com Sign up for the Film Series Mailing List: zeitgeistmovie.com This is the Official Online (Youtube) Release of "Zeitgeist: Moving Forward" by Peter Joseph. [30 subtitles ADDED!] On Jan. 15th, 2011, "Zeitgeist: Moving Forward" was released theatrically to sold out crowds in 60 countries; 31 languages; 295 cities and 341 Venues. It has been noted as the largest non-profit independent film release in history. This is a non-commercial work and is available online for free viewing and no restrictions apply to uploading/download/posting/linking – as long as no money is exchanged. A Free DVD Torrent of the full 2 hr and 42 min film in 30 languages is also made available through the main website [below], with instructions on how one can download and burn the movie to DVD themselves. His other films are also freely available in this format. Website: www.zeitgeistmovingforward.com http SUPPORT PETER JOSEPH (DONATIONS): zeitgeistmovie.com Release Map: zeitgeistmovingforward.com DVD: zeitgeistmovie.com Movement: www.thezeitgeistmovement.com
Video Rating: 4 / 5
An enjoyable children film. Kids and adults will enjoy watching this film. Jajantaram Mamantaram Full Bollywood Movie. 'Jajantaram Mamantaram' is based on the old Gujarati fable ' Bakasur' which tells about a sleeping giant who only gets up to eat small people. The original has been adapted to a contemporary Indian situation where Aditya who is a 'cool dude' from Mumbai, lands up at Shundi, a mystical island village somewhere in the deep Arabian sea. There he finds himself about ten times larger in size than the local villagers. This results in a situation that is staggering, both for Aditya as well as for the villagers. While Aditya can't believe all this is happening to him, the villagers view him as an aggressor who would harm them. Soon things get sorted out and Aditya with his wit and humour makes friends with the villagers. He gets specially attached to Jeran, a common soldier in the Shundi army, with whom he develops a great friendship. However, there is danger lurking in the background. Chattan Singh, the foxy army chief, has with him a magical contraption with which he can create Jhamunda, a monstrous giant as huge as Aditya. Jhamunda is not only big, he also possesses great power and to terrorize the villagers he has an understanding with them that from time to time he'll get to eat one of the villagers, preferably a child. In return of this obligation, he would not plunder their village. Jhamunda, infact is a weapon with which Chattan Singh plans to overthrow …
Question by RainWsker: where can I find an online Film Making course for High school?
im going into grade 12, I live in Alberta Canada, and i'm looking for a correspondence course for short film making. Does anyone know of any courses?
Best answer:
Answer by jps
ya dude……….
For online courses visit
http://www.careermantra.com
Add your own answer in the comments!
Treasures of New York chronicles the rebirth of Roosevelt House October 9th on …
26, 2012 — Hosted by Jon Meacham, the film recounts the transformation of Franklin and Eleanor Roosevelt's historic residence to Roosevelt House Public Policy Institute at Hunter College. … For 50 years, THIRTEEN has been making the most of the rich …
Read more on The Herald | HeraldOnline.com
[wpramazon asin="B007I1Q4O0″]

'Maachis' is a true story inspired by the 1984 Sikh riots after the assassination of Indira Gandhi, the Prime Minister of India. The police started assaulting innocent Sikh families which led to many youths joining extremist groups to revolt against an oppressive regime. Kripal (Chandrachur Singh) lives peacefully with his best friend Jaswant (Raj Zutshi) and is in love with Jaswants's sister, Veeran (Tabu). Their peaceful life is disrupted when the police wrongfully arrest Jaswant and subject him to third degree torture. After several days, Jaswant returns but seeing his friend in a horrible and dreaded state, Kripal vows to take revenge against the police. Kripal joins an extremist group headed by a commander (Kulbhushan Kharbanda) which includes Sanatan (Om Puri) and Jaimal (Jimmy Shergill) who all are aching to burn down the government. How will innocent Kripal who has transformed into a dreaded terrorist go on to seek vengeance?
A few online film school products I can recommend:
University of Sydney Commem Day procession, Old Medical School, 5 May 1965 / photographer Jack Hickson, Australian Photographic Agency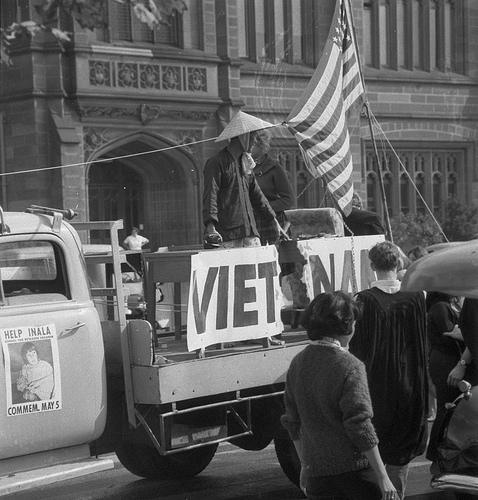 Image by State Library of New South Wales collection
Commemoration Day festivities by students began in 1888, when students gave an impromptu concert to the audience at the annual commemoration of benefactors and conferring of degrees in the Great Hall. The concert tradition continued until 1897 when, following tension between authorities and undergraduates – a characteristic of the Day's history – 300 students led a procession down George Street. The annual Commem Day processions were noted for their witty and political floats, and festivities were often exuberant. The last official Commem Day was held in 1975
Reference: "Student Commem Days" in Senate Online Exhibitions, University of Sydney website sydney.edu.au/senate/students_commemdays.shtml
Format: Film negative
Find more detailed information about this photograph: acms.sl.nsw.gov.au/item/itemDetailPaged.aspx?itemID=99581
Search for more great images in the State Library's collections: acms.sl.nsw.gov.au/search/SimpleSearch.aspx
From the collection of the State Library of New South Wales www.sl.nsw.gov.au
Copyright expired : News account
Katie Holmes Talks Divorce From Tom Cruise, Suri's School Choice
"I think both film and stage are so challenging, but in different ways," she said of her return to the theater after appearing in All My Sons in 2008. "With film, yeah, you have another take, but a lot of the time you're losing the light, so you better …
Read more on E! Online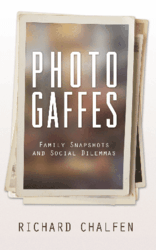 Boston (PRWEB) September 19, 2012
They say a picture is worth a thousand words, but sometimes it takes words to make people appreciate the photos in their lives. In this new book, a newspaper advice columnist known as Eastman shares letters sent by readers about their photography-based dilemmas. In his well-crafted responses, Richard Chalfen provides advice ranging from when its appropriate to take photos as well as ways to repair relationships harmed by photos. As the most photographed people in the history of the world, he notes in the introduction, Ordinary people have been empowered to take over the process, to make their own choices of what is important and do it themselves.
PHOTOGAFFES: Family Snapshots and Social Dilemmas tackles amateur photography from three points of view: film-based photos, digital photography and mobile phone snapshots. Chalfen includes letters about exhibiting photos in bathrooms, personal snapshots in prison, aging moms, reluctant waiters, kids bathtub photos, revealing holiday photos, online photos, camera phone etiquette and party photos. He advises a mom worried about her son taking photos of homeless people and through the neighbors window, chimes in on whether its OK to take photos at a nude beach, questions a husband who takes too many photos of young women at parties, and discusses the propriety of sending sonograms via cell phone.
As demonstrated in letter after letter, photographs play a large role in todays life. Besides dispensing practical advice about photography practices and photos themselves, Chalfen looks at changing technology and the accompanying changing social implications of capturing people and places with cameras of any sort, exploring how re-invented cameras and technology might be re-inventing society.
Author Richard Chalfen studied photography at Tulane University and filmmaking at the Anthropology Film Center in Santa Fe, N.M., and the University of Pennsylvania. Chalfen has degrees in communication studies and anthropology, with a doctorate in visual communication from the Annenberg School at the University of Pennsylvania. He has researched family photographic habits for four decades in the United States and Japan. The author lives in Boston and keeps a daily photo diary. He also wrote Snapshot Versions of Life and Turning Leaves: the Photograph Collections of Two Japanese American Families.

———-

For additional information, please visit http://www.photogaffeschalfen.com.
PHOTOGAFFES: Family Snapshots and Social Dilemmas

Richard Chalfen

Dog Ear Publishing

ISBN: 978-1-4575-1182-0